We focus on Ultrabooks here but also keep a close track on what's happening in the ultra mobile PC space through our work with UMPCPortal. For some people it's more important to be mobile with all-day, all-scenario capability at the expense of processing power or speed. For others, the most important thing is to be able to carry desktop power and that's where a Core-based Utrabook comes in. But how big is the difference in platform performance? I've had a Atom-Clovertrail based tablet convertible for a few weeks now and so I took the chance to test it alongside an Ultrabook convertible – the Lenovo Thinkpad Twist. Both devices have strengths, and weaknesses.
Before you check out the video there are a few things to note. Firstly, I'm not testing form factors, mobility or battery life here
Secondly. it's important that customers always find a device that fits 100% or more of their needs. Having a device that "does 90% of what I need" is a device that fails on 10% of the tasks you want to do on it.
This video presentation is an attempt to see what happens when you put a hybrid hard-drive Core-based device up against an SSD-Atom based device in terms of application usage. I haven't compared a large sample of CloverTrail and Ultrabook devices here but the application test results are quite representative of what you'll find across the board in my opinion. I haven't done much in terms of GPU-intensive comparisons.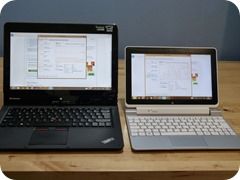 Here's what you will see …
You won't be surprised that the Core-based system wins most of these tests but there are some areas where the differential is quite small. Many Windows 8 applications, for example, don't get much benefit from having Core over Atom due to their 'quick-snack' nature.
I haven't mentioned 'Connected Standby' either which is a massive difference in the way these PC platforms work. The CloverTrail devices can't hibernate or standby at all, they just turn the screen off and go into a quiet mode where Windows 8 apps are poling, audio apps can stream and Wi-Fi is still on. It results in many days of background tasking which means applications like Skype, email and Twitter can continue to update and notify. Clovertrail devices are ready as soon as you press the 'power' button. Core-based devices, on the other hand, require waking from a sleep state where nothing functions in the background. A 5-second reconnect is then followed by a rush of activity from applications to get their internet updates.
Clovertrail devices are smaller and lighter too so combined with the always-on feature, are more suited to on-the-road activities. With the W510 you've even got a lightweight tablet that's detachable.
We could talk about the lack of USB3.0 or SATA, GPU and security features but for this article, let's get back to applications performance so you can see just how big the differences are.  The video is long, but worth a watch if you're interested in the difference between current Atom and Core-based systems.Click on the links above to hop direct to a specific section of the video.