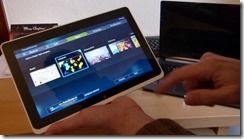 Here's a very interesting scenario and demo.
I installed PowerDirector 11 Mobile on the Acer W510, a CloverTrail Tablet and used the built-in cam for a complete end-to-end on-device video creation and sharing process.
After I had taken the 1 minute video it took just 5 minutes, 300 seconds, to create and render a video with transitions, to upload to YouTube and even included the time it took YouTube to make the video available. Smart camera, or what?
The source video was 720p, the output, 360p but 720p, even 1080p output is possible it just produces a file that would take too long to upload for this video. I'm very impressed as the tool-chain here and can see this working well on an Ultrabook convertible at 1080p with a DSLR as the source.
YES, you can do this on an iPad (no so much on Android as the editing tools are poor) but the process on the W510 is totally flexible on source material and output format. The PowerDirector 11 Mobile project can even be save and opened with the full-fat PowerDirector 11 editor on the desktop, on the Acer W510.
It blows my mind to think of what's possible here. I'll be looking to refine this for 720p input from my Panasonic FZ150 and 720p output to YouTube. I'll be speaking to Cyberlink about getting more options on output bitrate and 'Magic Style'  templates.
Note I'm also having some success with Movie Edit Touch by Magix which is a more flexible, traditional editor that is well optimised for touch. It's a lot slower though.
First the demo video and below, the output video on YouTube.