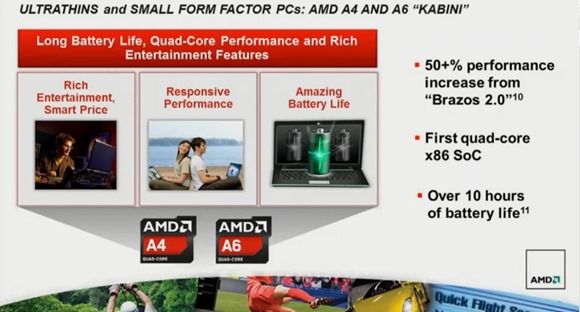 At CES this week AMD shared information about its 2013 line-up of SoCs with some aimed directly and the ultrathin market. The keyword – Kabini.
Kabini for Ultrathins
Trinity, with Piledriver core, was the processor we tracked in 2012 and it looks like we'll be tracking that, in A8-4555M A6-4455M and A4-4355M form – for a few months yet but Kabini, with Jaguar cores, is due to take over for the second-half of the year. These products will carry A4 and A6 numbers and will include the first quad-core build making them the first quad-core SoCs with X86 architecture. There's evidence that an E-Series range will be available with 2-Cores.
The TDP range will run from 9 to 25W (source) which means they are positioned directly in the netbook-Ultrabook space. AMD call them "price disruptive."
Kabini will be "shipping in the first half of 2013" with a 50% performance increase over Brazos 2.0.  Here's the small-print on the performance increase …
Test conducted in AMD Performance Labs measuring productivity performance with PCMark Vantage. The "Kabini" A6 APU-based system scored 5271 while the "Brazos" APU-based system scored 2807. "Kabini" PC config is based off the "Larne" reference design with 2013 AMD A6-5200 APU with AMD Radeon HD 8400 graphics, 4G DDR3 1600, and Windows 8 64bit. "Brazos" PC config is based off the "Renmore" reference resign with 2012 AMD E2-1800 APU with AMD Radeon HD 7340 graphics, 4G DDR3 1333 and Windows 7 Ultimate. KBN-3
The comparison shows us that AMD are moving Kabini into a space occupied by the netbook-style APUs (Brazos 2.0) and the low-power Trinity area. It's unlikely that the new replacement for Trinity, known as Kaveri, is something we'll see in ultrathin laptops as it moves up, out of the ultrathin TDP space.
CPU performance will depend on the part/clock but it's the GPU that's likely to be the key selling point. Details on that part of the equation are thin on the ground at this stage.
One thing we're sure that AMD won't be offering in 2013 and early 2014 is Windows 8 Connected Standby. That could be coming to Haswell based Ultrabooks in late 2013 and really set them apart from traditional laptops.
It's a complex change and re-positioning process that is happening with AMDs APUs this year but when it's complete it means it will be easier for us to track. Look for E-Series and A-Series Kabini APUs in 2-core (netbook and low-power Core-level) and 4-core (ultrabook-level) builds with HD8xxx series graphics. We'll do the same.
Temash for Tablets
AMD also announced new tablet-level SoCs that will compete with the lowest-power Intel Cores and, next year, Atom Bay Trail. AMD Temash, is promising 100% better graphics power than Hondo (Z-series) APUs which only appeared in a few devices so far. (AMD A6-1450 Quad Core 1.0GHz APU, AMD Radeon™ HD 8280 Series graphics was quoted)  Temash will have a TDP range of 4-6W. E-series versions are likely to have 2 'Jaguar' cores. A-series, 4-cores.
Temash seem well positioned to work in lightweight Windows 8 tablets that are much more powerful than Atom Clovertrail tablets and more price competitive than Intel Core-based tablets. Haswell could walk all over this segment in 2014 but for the second half of 2013, AMD might have a nice well-balanced product that offers value pricing even when Intel Haswell tablets are introduced.
Vizio launched a Z-60 based tablet at CES this week so clearly there's a way to go before we see Temash-based devices although Vizio have already committed to an upgrade. Expect some news at Computex in June where it wouldn't surprise us if Acer announced a Temash-based upgrade to the W500 tablet.
AMD have some press material available here. Here's an edit of the press conference.