Intel just introduced Bay Trail, the next-generation platform for Windows 8 which should bring devices by 'Holiday of 2013'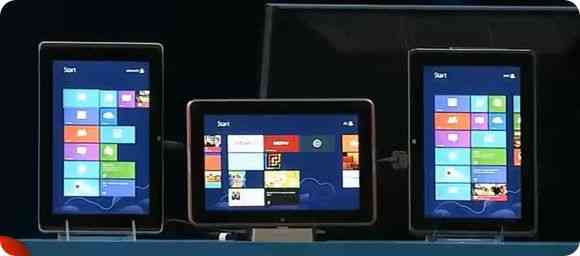 Compal, Pegatron and Wistron designs were shown on stage. Availability of quad-core platform: Holiday of 2013
Press release information.
Tablet Roadmap Expanded with upcoming Quad-Core Intel® Atomâ"¢ Processor
Speaking to a robust product roadmap and growing ecosystem of tablet and tablet convertible devices running on Intel technology, Bell reinforced the wide range of tablet designs based on the Atom Processor Z2760 running Windows2 8 now on shelves and online from OEMs such as Acer*, ASUS*, Dell*, Fujitsu*, HP*, Lenovo*, LG* and Samsung*. More tablet designs are scheduled to ship over the coming weeks. Enabling a mobile, connected and full Windows2* 8 experience, the Atom platform boasts all-day battery life and is more power- efficient than competitive offerings.
He also unveiled details about the company's next-generation 22nm Atom SoC, codenamed "Bay Trail," which is already booting and scheduled to be available for holiday 2013. The first quad-core Atom SoC will be the most powerful Atom processor to date, delivering more than two times the computing performance of Intel's current generation tablet offering. It will also include new improved integrated security offerings. These improvements will enable new experiences for business and personal use in devices as thin as 8mm that have all-day battery life and weeks of standby, all at lower prices.
"With Bay Trail we will build on the work done with our current SoC development and accelerate very quickly by leveraging Intel's core computing strengths," Bell said. "We will take advantage of the tremendous software assets and expertise at our disposal to deliver the best products with best-in-class user experiences."
Bay Trail details from leaked documents
Bay Trail is the next generation, 22nm-based Atom architecture and it's a big change. Leaked roadmaps mention a 2014 availability (1st Quarter) so don't get too excited just yet but some of the details are very interesting.  You'll see a higher TDP but don't worry because there's a lot more on-board here including a variant of Intel's graphics unit. A move away from PowerVR means better control over drivers and hope for Linux fans!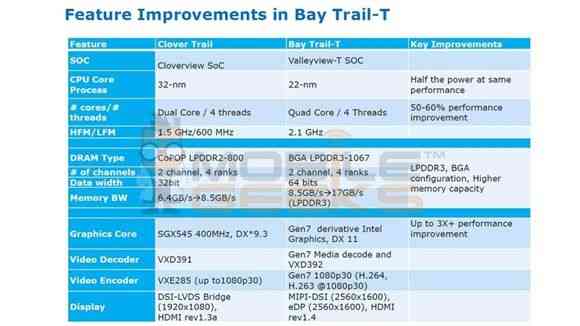 The SoC is known as Valleyview-T (where Clovertrail used a Cloverview SoC) and it will offer up to 4 cores. Display support will be improved above 1920×1080 and the graphics could be much more powerful. We expect huge improvements in media encoding and decoding efficiency and speed. Storage will still be eMMC based but USB3.0 support will be added.
With Intel's Haswell platform reaching down into 8W TDP space and Bay Trail reaching up where Pentiums and Celeron processors were operating a few years ago there's little space left for these brands. Haswell will also offer Connected Standby features so there's a possibility that there will be a crossover of platforms in the 10-12.5-inch space with 'Pro' tablets offering true desktop capability and the consumer tablets focusing on style, weight, value and mobility.
Bay Trail leaked information via MobileGeeks.