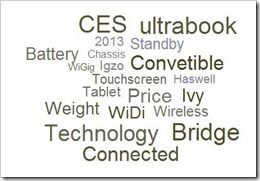 Over the next 24 hours we'll be preparing for CES. Ultrabooknews and UMPCPortal aren't in Las Vegas this year but we will be bringing you all the news and adding the analysis that we often don't have time for when we're there.
To kick of the CES 2013 analysis I've put together a set of technology and features that you should be watching out for during next week and expecting to hit the Ultrabook ecosystem in 2013. We've come a long way already but 2013 is the big year. It's the year when Intel says that the Ultrabook ecosystem will be finally ready to deliver what they planned many years ago.
Connected Standby
This is the big feature that will be added to Ultrabooks in late 2013. It comes with the new Haswell single-chip processor that supports far more power control than any other Ultrabook or laptop platform before it and it will bring us to the point where you won't need to turn your Ultrabook off ever again. Skype will run permanently in the background if you want it too. Wi-Fi will remain connected and you'll get all your notifications in real time, even when the Ultrabook is off. You can find the feature on Clovertrail Tablets already and it's groundbreaking to have such long idle battery life. Expect video playback times to double or more. Expect to be able to write and write and write for 10,15,20 hours before you need to charge again. Use your Ultrabook as a streaming WiFi radio for  couple of days on one battery charge. Hit the 'off' button and your desktop will halt but Windows 8's background tasks will continue.
Connected Standby is one of the less talked-about features of Windows 8 but it's one of the most important for the future.
Note that Ultrabooks capable of connected standby will have to run the OS fully on SSD so you'll see late-2013 Ultrabooks moving away from hybrid hard drives. We expect Connected Standby to become the 'must have' laptop feature in 2014 and it is likely to be found only on Ultrabooks giving them a significant advantage over laptops.  You can find more on Connected Standby over at our sister site UMPCPortal where we've been tracking the CS-enabled Clovertrail platform.
Perceptual computing
Intel will be pushing this hard in 2013 and we're already seeing evidence of this. Expect it to feature in Intel PR during CES. What is it? See this article and video. It's gesture and voice control for PCs and currently it's working on developer hardware but I would expect this technology to be built into the frame of an Ultrabook in late 2013 or early 2014.
WiGig
WiGig is the very high throughput short-range wireless technology that can transmit audio, video and USB to a wireless receiver. It's designed to be 'transparent' to the user (i.e. low latency, high throughput) and is already in the Dell 6430U. Expect Dell to show a WiGig docking station at CES. WiGig is now part of the WiFi Alliance.
Wi-Di Pro
We're already at WiDi V3 and can now play 60fps of HD video to a remote screen. V3 also has a back-channel and the latest Ultrabooks already include Wi-USB drivers but the next generation, Wi-Di Pro, should add collaboration features that could make it extremely useful in education environments. A collaborative meeting between rows on a plane and new gaming environments are also enabled. Intel spoke briefly about WiDi Pro in November last year but there hasn't been any official announcement yet.
Haswell
Haswell is the name of the next generation Core platform from Intel and there will be variants available for Ultrabooks. We've got an overview of Haswell for you here.
Connected standby is one of the significant features (mentioned above) but there'll be more. We're expecting  30% boost in processing power / clock, a doubling of 3D graphics power and many new media features including end-to-end 4K video support and video stabilisation processing performed in silicon.
Expect demonstrations and maybe a design prototype from Intel showing how thin Ultrabooks and tablets can be. On the tablet side you should expect to be very impressed as the dynamic range of Haswell reaches from efficient always-on background tasks to desktop-grade 1080p video editing and desktop gaming. Docking and modular computing become very interesting with Haswell which, in turn, relies much on the success of Windows 8 and the Windows 8 Store
Other Tech to watch out for
More on sensors (including NFC) in Ultrabooks and Ultrabook convertibles
Maybe a look at the Intel smart watch concept which would fit very well with a Connected Standby Ultrabook
'New' Ultrabooks
You're likely to see a wave of launches and re-launches at CES. Expect Windows 8 updates, touchscreen retro-fits and a second marketing push for some of the Ultrabook convertibles that didn't reach the market in Q4 2013. the ASUS TaiChi, ASUS Transformer Book, Fujitsu Q702, Samsung Ativ 700T, Elitebook Revolve, Microsoft Surface Pro, MSI S20, MSI S30, Lenovo Thinkpad Helix should all get more air-time. I expect manufacturers to announce further Ultrabook models in the low-cost bracket and wouldn't be surprised if Lenovo refreshed their U310 and U410. Samsung have already announced a new Series 7 Ultrabook. The Series 7 Ultrabook will offer high-end features in a less fashion-led design and thus will fit well between the Series 5 and Series9.
Low-Power Ivy Bridge CPUs
With a touch of smoke and a few mirrors Intel is likely to introduce a new range of low-power Core CPUs. With TDPs down to 10W they give designers an easier way to build a device with longer battery life. It will be at the expense of processing power though and in effect is just a set of down-clocked Core CPUs. For Intel it gives them a way to offer a lower-cost platform but we've yet to find out if Ultrabooks will use it. The low-end Pentium and Core CPUs look like they will have significantly less processing power so will Intel let Ultrabooks use CPUs that have lower processing power than those launched in 2010? We should get the answers from CES next week.
Other Changes to expect during 2013.
Prices will continue to drop. We saw a few $499 offers last year but this year we'll probably see the first $549 RRP. Maybe even the first $499 launch.
Form factors will get a shake-out during CES and 2013. I expect one or two previously announced models might get pulled and the ASUS Taichi 13 could be one of them. The ergonomics of Ultrabook convertibles aren't quite right yet and with Haswell approaching some manufacturers may choose to wait until the next round where designs can be much lighter and have competitive battery life with little to no fan noise, always-on and a more mature Windows 8 Store.
Touch has already started to appear in the mainstream laptop segment with the X202/S200 from ASUS being one of the more popular ones. Expect other laptops to get the touchscreen upgrade at CES 2013
What won't change at CES 2013
All laptops, Ultrabooks and tablets will continue to be powered by lithium-Ion battery technology in 2013. We'll see news about new battery tech as we always do but lithium Ion will continue to power all portable computing devices.
Stay tuned this week for all the CES 2013 Ultrabooknews!
Image via Worditout