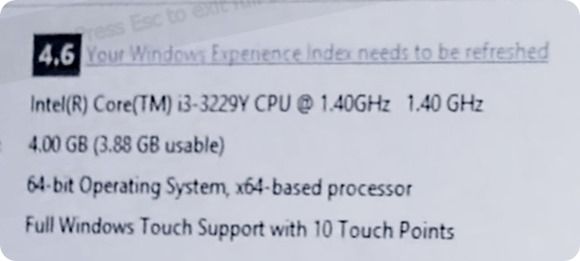 Now we know why Lenovo didn't release an 11" Yoga with Core inside…they were waiting for cooler CPUs which confirms our suspicions yesterday.
The new Lenovo Yoga 11S seen at CES yesterday has been confirmed to have a Core i3-3229Y CPU running at 1.4Ghz. That's the same clock and CPU power as the early Core i3 Sandy Bridge Ultrabooks in 2011 and just about half of the max performance you can get out of a Core i5 which can Turbo for short periods to 2.7/2.8Ghz.
Existing Core i3 Ivy Bridge Ultrabooks run on a 1.8Ghz clock with a max TDP of 17W. That was clearly too much for this design, either in terms of heat generated or battery capacity required to give it a chance against other Ultrabooks. The Core i3-3229Y is a 13W TDP CPU that can even be configured down to 10W by manufacturers although we don't think it is in this case as that would probably mean even lower CPU clock.
More details on the lower-power Core CPUs
Lenovo are calling the Yoga 11S an Ultrabook.
You'll get some extra features from the Ivy Bridge CPU over the older Sandy Bridge CPU and the battery life will be longer, as long as you can get your jobs done in the same amount of time!
The HD400 GPU runs at the same clock as on the standard CPUs so 3D and video encoding/decoding performance should be well up on Sandy Bridge variants.
Expect this CPU to kill off any cheap Sandy Bridge Ultrabooks over the next quarter because we suspect this new CPU is also a way for Intel to offer lower-cost variants. With the Lenovo Yoga 11S being offered with a 128GB SSD and Core i3 at $799 that would seem to be the case. The Twist will have a hard time competing against this although it does have a few pro features that the Yoga doesn't.
More information on the Lenovo Yoga 13 and Lenovo Twist which we have also reviewed.
Overall the CPU should be a good fit for this product at this price. If street prices and offers bring this down to $699 it could be a very compelling Ultrabook Convertible.
We pulled the CPU information (which, BTW, Lenovo and Intel are unlikely to confirm until later today when Intel is expected to launch the new CPUs) from a Notebookitalia video which is embedded below. A video from Mobilegeeks is also embedded below.