This ground-breaking integration of Windows 8 and PC hardware will change the way you use a PC and it's likely to be an Ultrabook-exclusive for much of 2013 and 2014. Connected Standby is 'on' for Windows 8 apps when the PC is 'off.' It means you can run Windows 8 applications like Skype to provide voice and video services when your PC is in your bag, and much more.
Connected Standby only works on Windows 8 PCs (and Windows RT PCs) that can support the very low power states necessary. Today, Not many PC platforms can do that because processing platforms need to be able to switch off unused 'islands' of power like USB, audio, screen and storage, just like a smartphone would do to allow calls, notifiers, polling and audio streaming when the screen is off. This new power state is known as ACPI S0. (Sleep on Windows 7 and Windows 8 is known as the ACPI S3 state) Connected Standby doesn't exist in the Ultrabook ecosystem today because the Ivy Bridge platform can't control the enough of the PC mainboard. It's a question of very tight integration of hardware and software and the only Windows 8 capable platform that can do it is the Intel Clovertrail platform that you'll find on these tablets right now. [The integration level is so tight that Intel could have a real advantage by bringing their CPU, GPU, Audio, USB and WiFi controllers together as a package for designers and securing even more Intel Inside.] Haswell, the next generation Core from Intel, will be able to do this, on some PCs, later this year.
It really is an amazing part of the Windows 8 architecture, it's well designed and something completely new for PCs. It changes the way you use a PC and the way you think about WIndows 8 and Windows 8 apps to the point where you never want to go back to a system without it. It's coming to Ultrabooks, probably exclusively, in late 2013 with the introduction of the Haswell platform. You'll hear a lot about Haswell next week as it gets marketed and reported at CES 2013 in Las Vegas.
What can Connected Standby do?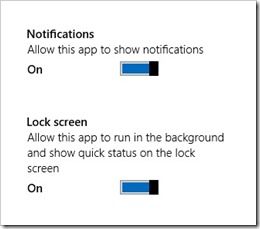 Skype is the showcase Windows 8 application for Connected Standby. Start the Windows 8 application, log-in and set the application permissions such that it's allowed to run in the background. You can now close the app and you'll recieve noifications. On a Connected Standby PC you can turn the pc 'off' (press the power button) and Skype is still running in the background. You'll get notifications and your status will remain 'available.' You've now got a VOIP / videophone that runs when the PC is in your bag.  Here's the list of allowed operations when a PC is in CS / ACPI S0.
?    Updating live tiles with fresh content
?    Receiving email
?    Downloading files from, or uploading them to, a website
?    Sharing content, such as photos on a website
?    Printing
?    Synchronizing content with a tethered device (such as syncing photos)
?    Receiving instant messages
?    Receiving VoIP calls
?    Communicating in real-time
?    Playing background audio and music
How long does Connected Standby last?
Microsoft have done an excellent job writing the background processing system for Windows 8 applications. Like iOS on iPads it's not a free-running computing but scheduled and restricted. Apps can register for background services and then have a restricted set of capabilities and network access. Wi-Fi usage is scheduled so that apps don't keep the network card active all the time. Notifications are also scheduled. CPU usage is highly restricted and the type of processes that can be performed are also tightly controlled. You can stream audio and let a download complete but you can't kick off a video processing job. Connected Standby controls what parts of Windows 8 can operated too. For example, desktop applications are completely frozen. You can see that demonstrated in the video below. Coming out of CS into normal state takes around 300ms, short enough to answer that phone call!
Hardware Requirements
It's not easy to be Connected Standby compliant. The OS needs to run on a non-rotational disk for example (SSD) the system must be passively cooled when in CS state too. Battery drain must be within strict guidelines too. "all Connected Standby systems must drain less than 5% of system battery capacity over a 16-hour idle period in the default shipping configuration." Most current PCs will drain 1% of battery power in one hour when in Sleep state so there's no chance for current PCs to comply. For an Ultrabook with a 50Wh battery it means running in under 200mW of power when in Connected Standby. On current Ultrabooks you'll be lucky to see anything below 4000mw of usage in an active state with the screen off.
I tested an audio streaming application, Tune In, in the Connected Standby state on a Clovertrail-based Windows 8 PC and saw an average drain that would be consistent with about a day and a half of music streaming on a tablet battery.
I tested Skype in CS state too and am confident that we're talking about four or more days of Skype presence when in CS mode. (Tested on 24Wh battery on Acer W510 Clovertrail tablet )
Ultrabook – The PC with the highest Dynamic Range
When the next generation of Intel Core arrives it's likely to be Ultrabooks that are positioned best to take advantage of the features. Ultrabooks are already highly integrated laptops and the Ultrabooks that can implement Connected Standby stand to have a unique feature in the PC world. They'll also have one of the highest dynamic ranges of usage of any PC. From a single email notification over a 6 day period to desktop-grade gaming over a 3 hour period. It should be clear to many now why the Ultrabook will take three iterations to make it complete and it should be much simpler now for investors, analysts and customers alike to spot the unique proposition here. If Ultrabooks have an exclusive on connected standby for just one year it could be enough to seal the future for the Ultrabook brand.
What else comes with 3rd Gen Ultrabooks and CS?
There's evidence that software developers are investing in Windows 8 apps. Skype is clearly a strategical program by Microsoft but others names are starting to appear. The economics of Windows 8 development are improving every day and I expect we'll reach huge growth during 2013. Windows 8 could easily become the number 2 app ecosystem during 2013. Number 3 seems certain at least.
As the 3rd-gen of Ultrabooks takes off (covering mass market laptop space to new form factors and high-end business devices) so the accessory ecosystem starts to grow. Docking stations, NFC and interesting accessories that will be associated with Connected Standby. For example, the Smart Watch…
The Smart Watch – An extension of Connected Standby
Intel were due to present a smart watch concept at IDF 2012 but in the hours running up to the event the demonstration was pulled. Think about Connected Standby with laptop and tablet usage scenarios. While alerts can be sent it's possible that a laptop or tablet is either in a bag or in another room. A CS extender is needed and that's where a Smart Watch could become interesting. The CS-enabled smartphone too. Using BT4.0 low-power modes it's possible to create some interesting accessories. Watches and Smartphones could get connected in to the wireless circuit and it's not hard to think of other extensions. Picture Frames, RFID extenders, In-car screens and more.  These low-cost accessories could become a big market and of course, a way to extend or implement the Internet of Things.
Summary
Connected Standby is groundbreaking and PCs that implement it stand to gain a very smart unique and very unique selling point. Ultrabooks could be the only PCs that implement this in 2013 and most of 2014 although it does have to be said that ARM architecture is already CS-capable (but not capable of Windows 8 desktop function) and AMD will be working on this too. Connected Standby enables a new dynamic and smart PC usage scneario which, in my experience, is a lock-in feature and could spawn a new ecosystem of Ultrabook accessories. Connected Standby is a huge part of the 3rd Generation of Ultrabooks and only Haswell makes it possible. Connected Standby for Windows PCs hasn't been getting the airtime it deserves and I've even read reviews of CS-enabled Windows tablets that haven't even mentioned Connected Standby so it's clearly early days for this feature. Expect awareness to grow during CES 2013.
Further Reading
More on Connected Standby at UMPCPortal (including tests and reports.)
For more technical information, read these documents from Microsoft. Introduction to Connected Standby. Introduction to Background Tasks.