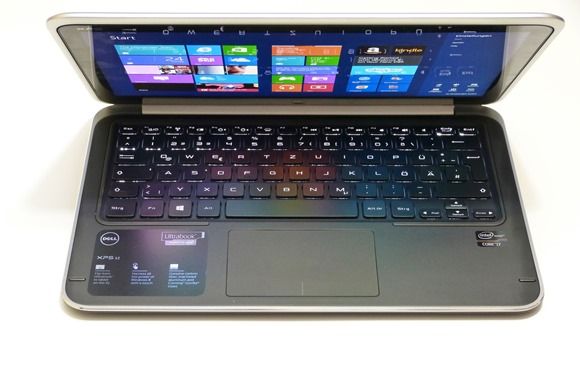 The Dell XPS 12 has caught the attention of many people since it leaked last May but that could be attributable to it having one of the coolest design features we've ever seen on an Ultrabook. The flip-screen is impressive. But is it useful? And how good is the XPS 12 as a laptop? Read-on for the full review.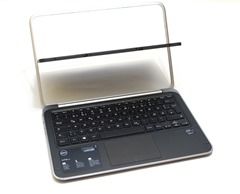 Many thanks to Ultrabook-king for their help in getting us the Dell XPS 12 for review. Our German readers might want to take a look and bookmark them.
Dell XPS 12 Review model full specs.
Dell XPS Specs, images, review links and videos are always available in our database.
Manufacturer: Dell
Model name: XPS 12
CPU type: Intel Core i7-3517U (Ivy Bridge, 1.9Ghz nominal)
Graphics: Intel HD 4000
OS: Windows 8
Display Size: 12.5? 1920×1024
Screen Type: LED-Backlit LCD
Touch Technology: 10-point Multi-touch
Cypress Touchpad
RAM: 8GB
SSD: 256GB (Samsung PM830 mSATA)
Battery capacity: 47 (Wh)
Weight: 1520gm / 3.35lb
Ports: 2xUSB3.0 (1xsleep and charge,)  1xMini Display Port, 1 x headset port.
WiFi/BT4.0 – Centrino Advanced-N 6235
Ambient light sensor, rotation sensor.
TPM 1.2 module, No VPro, Sealed battery. No expansion ports or access covers.
First Impressions and unboxing.
You'll find a detailed first impressions post on the site and a video review below.
External Build, Ports
Top marks to Dell! The XPS 12 is a pleasure to look at and to hold. The quality of the finishing is excellent and the materials used are of high quality.  We like the rubberized finish around the Ultrabook and the fact that this continues around the keyboard.
As you may have seen, the screen rotates inside a frame to provide a tablet-like experience when needed.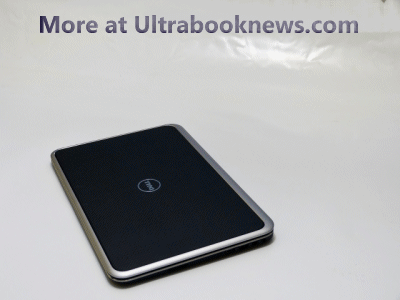 The screen rotation mechanism works very smoothly.
Because of the use of a frame around the screen there's no place to put tablet controls. As a result the controls for power-on, volume and rotation lock, controls that need to be on the outside when the Ultrabook is 'closed', are positioned where you usually find connectivity ports. The end result is that there isn't much space for ports so you end up with two USB3.0 ports and a Mini Display Port. There's no SD card slot which a real shame for photographers and videographers given the quality of the screen.
The Dell XPS 12 weighs 1.5KG / 3.35lb which, for a 12.5" Ultrabook isn't the lightest but for the convertible category, about what should be expected at the moment.
Working Fascia (Keyboard, Screen, Mouse)
Again, Dell have done a good job here and although the screen might be the specification highlight, in terms of usability, the keyboard was the highlight for us. Reliable, comfortable, back-lit and up there with the best of the Ultrabooks that we've tested. The screen has wide viewing angles and good brightness and color. The touchpad gave us a few surprises with jumping pointers and movements interpreted as Windows 8 side-screen swipes. Multi-touch control seemed good.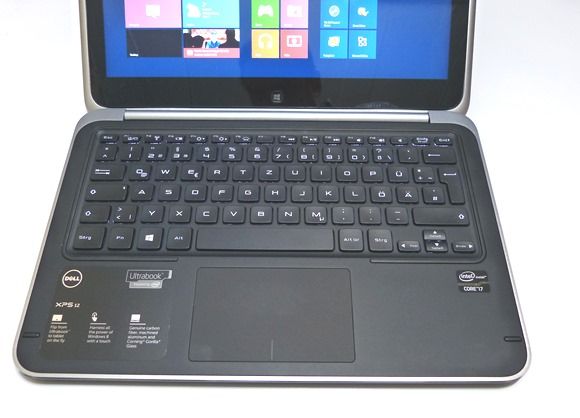 Moving on to the screen. It's exciting but we're not convinced that at 12.5" Ultrabook needs a full HD screen for a few reasons. The first is that although font sizes on Windows Desktop had been enlarged, there's still a problem with selecting things with a finger. A boost to 150% font sizes results in some ugly looking icons and fonts. The modern UI of Windows 8 apps seems to be better suited to boosting fonts but we even saw problems here. Bing news, for example, prevented the display of some articles' second pages when in large-font mode.  The second issue is one of power usage. In battery life tests we detected high power usage on 50FPS Full HD playback. Although we haven't been able to conclusively prove it, the feeling remains that 1600×900 would be a far better all-round compromise and that the GPU has to work harder for the higher resolution.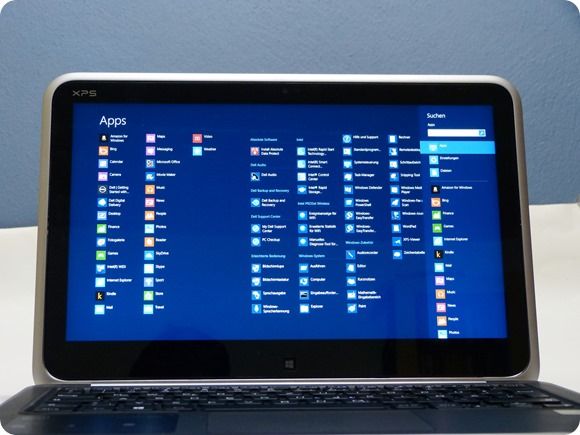 Tablet Mode
As with the Lenovo Yoga 13 the Dell XPS 13 has the same issues of weight, size and input method. The Dell XPS 12 is slightly easier to turn into tablet mode but once in that mode you won't want to be holding it for too long. The XPS 12 stays quiet (fan off) for a bit longer than the Lenovo Yoga 13. Do make sure you bump up the fonts in both desktop and Modern UI because the defaults are a little too small for finger control. On a table-top the Dell XPS 13 is missing what we regard as an important feature – digitizer input. Without the digitizer input there's no way to get the precise input needed for annotations, handwriting input (if wanted) or detailed editing of images, videos and other media. Without the digitizer the user is left with the Modern UI and Windows 8 apps as the best option and that (at this stage) reduces the number of usable scenarios. We enjoyed using the Dell XPS 12 in 'easel' mode as a display unit (great for videos and reading news over breakfast) but text input in this mode is awkward.  Is tablet mode worth having? We think it adds excitement to the product and encourages people to think about different usage scenarios but for those looking to use this amount of screen real estate professionally, the digitizer needs to be added.
Continued on Page 2
Pages: 1 2