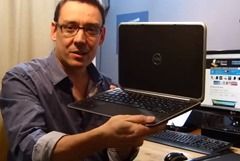 I've been doing a lot of testing on the Dell XPS 12 over the last 4 days.
Here's a 16 minute video of my findings. If you're interested in Ultrabook Convertibles, take a look at this video because it covers some ergonomic issues as well as a detailed look at the Dell XPS 12. [Specs, images, videos and more info in our database here.]
As always, I welcome discussion below. What do you think of Ultrabook Convertibles and what device impresses you the most?
Here's the list of Ultrabook Convertibles and here's the list of dockableUltrabooks – the form factor that won in our recent poll.
Thanks to Ultrabook-king.de for sending the Dell XPS 12 over.