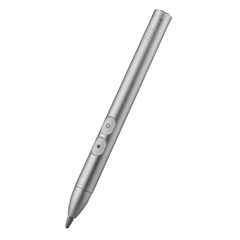 Intel have just published the results of a study into the use of a digitizer and stylus on an Ultrabook.
Those of you that were into tablets in the mid 2000's will know that Windows TabletPCs were very much stylus-oriented. Windows XP Tablet Edition included support for handwriting and the now-missing TIP, a floating input panel that would appear when an input box was selected. The digitizer was not only good for natural input but also for detecting and using something that many people forget when moving to finger touch – the hover action. Hovering meant you could activate contextual features and, simply put, see where you were putting the pointer. Over the last 10 years the finger-optimised touch layer has taken over and user interfaces have moved along to allow the finger to be used as the pointer but Windows 8 still supports handwriting input and there are still a number of important use-cases for the pen.
Intel's study addresses the user-experience aspects of using a stylus on a clamshell device by sitting down and discussing the desires and issues with a global audience. The study also helps to strengthen some previous study findings around touchscreens, keyboards and touchpads. For example, Intel found that 56% of people asked wanted touch and a stylus on their ideal laptop. 22% of people said they don't want a touchpad at all!
In part one of the three-part video you'll see how Intel performed the study and hear about some the high-level results presented by Daria Loi, User Experience Innovation Manager at Intel.
A post entitle "Pointing the Way" is also available and there's a touchscreen UX guide available.
Unfortunately Intel have removed the videos that were originally included in this article. We've tracked down the original Web articles and they're listed below.
What do users want a stylus for?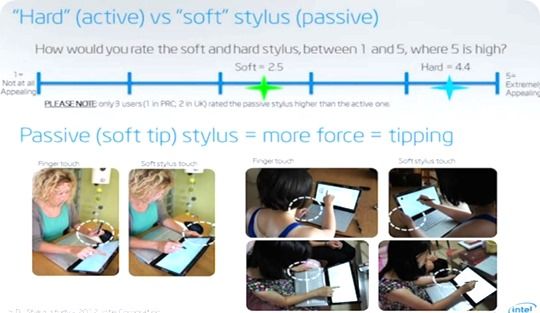 The study found that precision is important for users and the stylus is a barrier-free way to achieve it. Clean screens, intimate relationships with the pen and an aspect of personality plays a role too. Writing a hand-written electronic birthday card is mentioned. There's a series of use-cases that are highlighted in the report.
In Part three you'll learn more about the findings along with recommendations for designers and manufacturers. This section is also important for app developers. Intel recommends that software developers think about the following aspects:
The use of a stylus is a very personal experience for many people.
Think about unsavvy users.
Mobile usage is important.
Think about optimising the web experience for stylus users. E.g. submenus and right clicks
Users want to be able to use digital signatures.
Think about the precision-level available with the stylus in relation to editing images and videos.
Collaboration and sharing is an important area for users.
Think about palm detection and rejection.
And finally, here's my thought. How about adding a tiny infra-red transmitter into the stylus so it can be used for highly accurate air-gestures or air-writing when used with the perceptual computing hardware? I can think of some great applications there.
My personal experience with digitizers is that I tended to use the feature for annotation rather than creation and that after a period of time I got a big advantage from hover detection and contextual menus. I'm not a great handwriter though so that might have something to do with why I never got any advantage from handwriting input.
What's your experience with digitizers? What would you like to see? How could it combine with some of the convertible solutions?T
I've made a video about Ultrabook touch scenarios as a demonstration. You can watch it below.