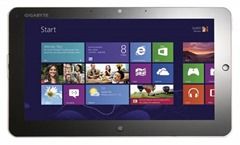 In the category that we like to call ultraslates (tablets based on an Ultrabook platform) we've got a new entrant today. The Gigabyte S1185 is an 11.6" full-HD tablet running Windows 8. Gigabyte have not made a formal announcement on their site or social media channels yet but some details are out there in CES-land. Interestingly the image shows a USB-attached keyboard which is not what we expected when we read 'magnetic keyboard.'
The original keyboard image has been removed as it was from a different device. We'll update when we have new info.
The S1185 sits above the S1082 Windows 8 tablet already available although it's difficult to find a set of specs for this one right now. Liliputing reports VGA, HDMI dual cams , USB3.0, BT4.0 and WiFi. An option 3.5G modem is available.
We'll keep an eye out for full specs and update the database for you ASAP.
For other 'ultraslates' see this list where you'll find the Microsoft Surface Pro, Lenovo Helix, Samsung ATIV Smart PC Pro, Fujitsu Stylistic Q702, ASUS Transformer Book and Acer Iconia Tab W700 so there's plenty of competition out there.