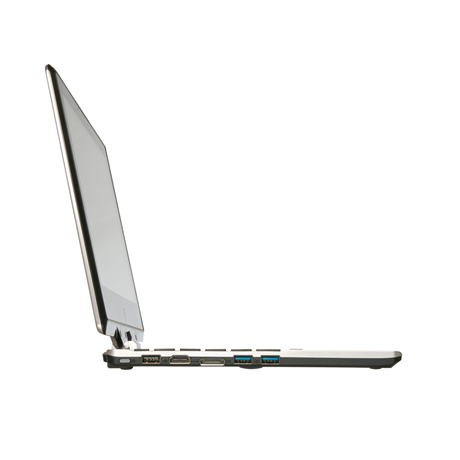 The folks at mobilegeeks.com have a hands on video of the recently re-announced Gigabyte U2142 Convertible Ultrabook. Its an 11.6 inch 1366×768 device that comes with a swivel screen similar to the Lenovo Thinkpad Twist and features a whole host of ports for excellent connectivity and also has storage options up to 1TB HDD or 256GB SSD. There is also the possibility to upgrade the RAM up to 16GB. See our previous coverage here.
Running a Core i5 the device impressed with its relative thinness and lightness for an Ultrabook especially when taking into account the amount of ports it packs in, however the keyboard was not as attractive and was described as "super bouncy", not something you would probably want in a keyboard, with the flex clearly visible in the video demo. However this could be due to the device being a pre pro model so that would be something to look out for when considering the device.
The U2142 may not win any beauty contests but with features like Gigabit Ethernet and VGA output would be a versatile workstation in the enterprise but the screen resolution may be a limiting factor for some. The Ultrabook should be available now and starts at $1000.