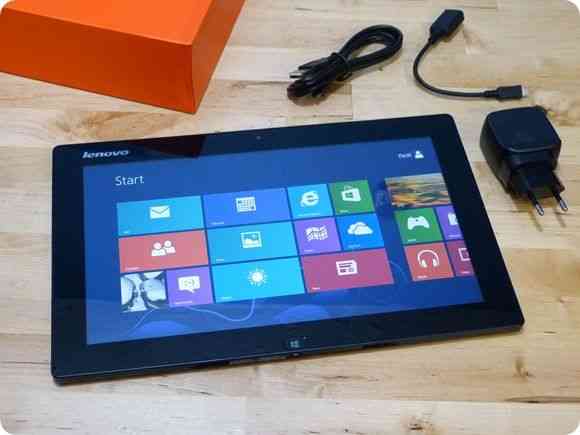 I had the opportunity to pick up a Lenovo Ideatab Lynx from the local store today and as it's a new entrant to the Clovertrail tablet market I though it would be worth snapping it up for a test. The unboxing video is below. I haven't got the keyboard dock yet but that should arrive next week.
At 555 Euro for the 64GB version it's not the cheapest Windows 8 Clovertrail tablet  and the keyboard (with battery inside) is another 150 Euro but I'm looking forward to seeing if this baby beats other Clovertrail dockables where it really matters typing. It's Lenovo, I'm hoping, and if it works, I may use this as my blogging PC at MWC in 4 weeks time.
For an 11.6 inch tablet it's amazingly light 635gm / 22.4oz and the screen looks nice. A plastic back fells somewhat cheap as does the cover hiding the micro-SD card slot. I love the USB charging feature though!
More first impressions over the next couple of days but feel free to drop questions below. Check out full information, more videos and links in our Lenovo Ideatab Lynx information page.
You can see that it's charging via a standard USB cable here (in this case a Nokia adaptor.) One of the first things I'll report on is charging time. Don't expect it to be short over a standard USB cable!