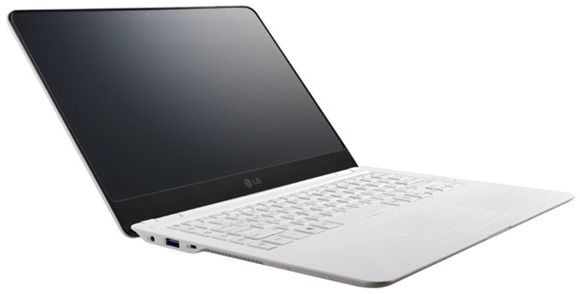 When the LG Xnote Z350 launched, based on the Z330 before it,  LG claimed it was the thinnest Ultrabook. It's not any more but it's still in the 'Wow' category. The new LG Z360 is the same. Brad Linder of Liliputing went hands-on at CES 2013 and called it "one of the thinnest and lightest Ultrabooks" he's ever seen.
This is a 13.3" Ultrabook weighing just 1.2KG / 2.5lbs and comes with a full HD screen and Core i7 CPU. Getting a feel for the price-bracket on this one yet?!
I don't want to take eyes away from Brads article so head-on over to read what he's got to say or watch his video below.
We'll pull all the specs together on this (including Full HD screen, twin (?) microSD slots, and dedicated function keys that you can see on the left of the keyboard.)
One thing that could be a problem with the LG is availability. This South-Korean company does a great job getting to all the trade shows but never seems to follow up with good distribution channels into Europe and North America. I'll see what I can do to get some words out of LG Germany when I see them at CeBIT in about 8 weeks. In the meantime we'll pull it together in the database with the other LG Ultrabooks.