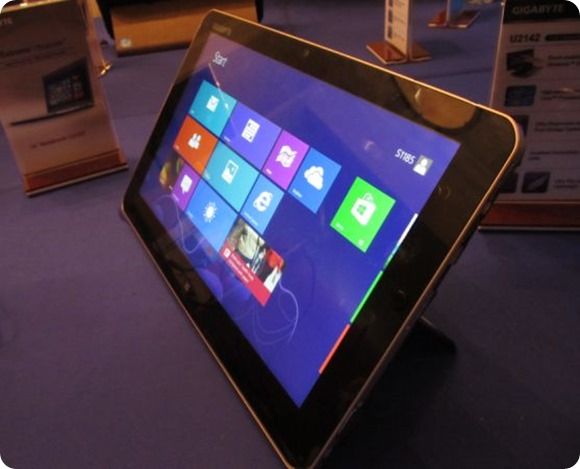 I tried to bring you some information on the new Gigabyte S1185 slate the other day but pretty much failed! Let me give that another shot now with the help of news, images and videos from a few bloggers out at CES.
Let's start with the specifications we've got so far. Bear in mind that Gigabyte are a relatively small company and their tablets are often build to spec for large orders so what's possible in terms of specifications, might not be available.
11.6" fullHD IPS screen with integrated optical mouse pointer and mouse buttons on the frame. This feature is extremely useful for two-handed Windows desktop use.
Processor: Intel 3rd Gen Core (Ivy Bridge) i3 and i5 (details not given)
RAM: Up to 8GB
Storage: Up to 256GB
Full size VGA port, full-size HDMI, one USB3.0, micro SD slot
Cam: 5Mp rear, 1.3Mp front
3G option
Kickstand
Weight: 2lb (about 900gm)
Docking port for optional keyboard
There's no detailed information on the battery capacity at this stage although Gigabyte are saying 7-8hrs.
The Gigabyte S1185 is typical of Gigabyte tablet offerings. With the optical mouse and kickstand they've once again offered features that will appeal to the pro user. We hope they also release a desktop docking station that could make hot-desking even easier.
Price target $1000. Availability: March 2013
Here's a video from Liliputing. Click or more images too. Hat-tip to Engadget.