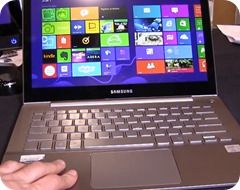 This video comes from GadjetJM and it's a good overview of the new Samsung Series 7 Ultra that got launched a few days ago. This Series 7 is looking like a real powerhouse of an Ultrabook with touch and discreet graphics. Backlit keyboard, SSD and a Full HD screen of 1920×1080.
See our previous article for more on the details.
Slashgear also got some hands-on. See there article here.