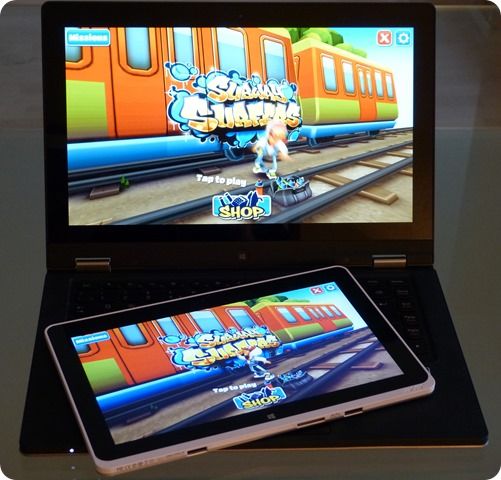 As part of our continuing co-op with Intel to highlight interesting and useful Ultrabook software resources I've got a demo of a touch-enabled game from Appup running on the Lenovo Thinkpad Yoga Ultrabook Convertible for you, gamers and developers alike.
Related articles in this series:
Subway Surfers is currently free on the Intel Appup store and you can download and install onto any Windows 7 and 8 PC. If you've got a touch enabled Intel Ultrabook or tablet or if you're thinking of developing one, check out the demo video below.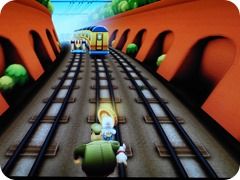 The aim of the game is to guide Jake along the railway tracks (one of the stupid ways to die I believe!) moving between lines to dodge trains, collect money and other items. You can jump, slide and fire. It's smooth addictive and importantly it works in a number of orientations and scenarios. For example if you're using the Lenovo Yoga in laptop mode you can grab the sides of the display and use both thumbs to control Jake. One finger is possible if you're holding the tablet. Portrait mode works too.
Not only can you control Jake the Subway Surfer by touch but you can use the accelerometer too. It's harder though so beware! Finally, although I couldn't get the keyboard controls working in this demo, it does support them. I assume they are enabled if you don't have a touchscreen.
In terms of graphics and fun it's a great game but there could be a few improvements. For a start it's not a Windows 8 application so swiping from top or sides doesn't enable the usual charms or sharing options. That won't be a problem to many right now but as people get used to Windows 8 apps, desktop apps like this may need too implement something similar. Developers should note the side-holding hotspots which are the easiest areas to get to with thumbs and remember that when holding a tablet with two hands there may only be two fingers available. Three-finger actions may not be accessible. Remember the different usage scenarios too…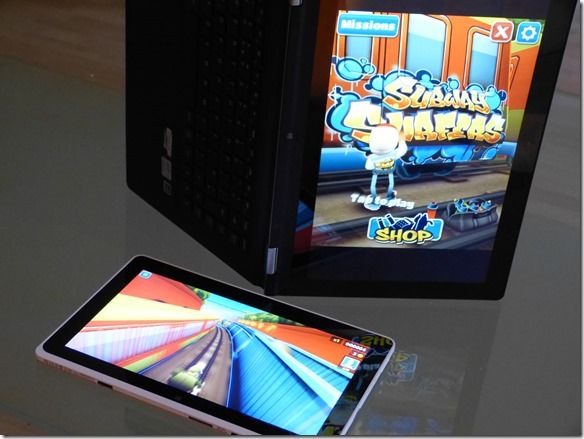 Subway Surfer also works on Clovertrail tablets but not quite as smoothly, which is surprising as the graphics don't appear to be that intensive.
For some fun on your touch tablet check out Subway Surfers and if you're thinking about developing a game for Windows 8 touch devices, be sure to read our developer articles and watch the video below.
This is a sponsored post brought to you by Intel and Ultrabooknews.  All content written by Ultrabooknews. Subject area by Intel. We thank Intel for their support.