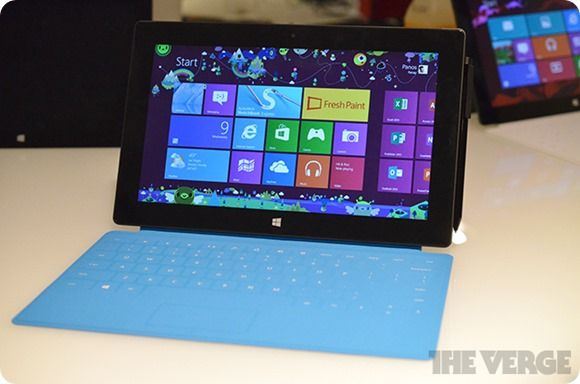 The Verge have just posted a very interesting and detailed hands-on with the Microsoft Surface Pro. I sent out my  Surface Pro Performance Preview late last year but this hands-on, by Tom Warren, is worth taking a close look at too because it covers more than just the internals. You can read my thoughts below or just jump to The Verge.
Before I even start I want to point out that this is a desktop-capable TabletPC.  We know it's a Core i5, but what version on the Pro? I suspect we're going to be seeing one of the new 7W/13W TDP Core CPUs and while that means it won't get hot, it also means it's less powerful than a standard, Ultrabook-style, Core i5 CPU. Beware! The Verge doesn't say anything about the Core i5 CPU in the report. Whatever the CPU though, it's going to be many more times as powerful as the Surface RT or any Intel Clovertrail-based tablet.
Important for a Tablet owner is weight. "Microsoft has made this really comfortable to use." says The Verge and yet they "tried holding it with one hand and it wasn't particularly comfortable." The Surface Pro weighs 907gm / 32oz. and that's not good for one-handed holding. It's 50% lighter than some of the Ultrabook convertibles but even so, that sort of weight, in one hand, is not something you want to do long-term. Get down to 66% of that weight and we're talking consumer tablet.
So, the Surface Pro isn't a consumer tablet. Here's something I posted previously…
…One of the scenarios it could struggle in is as a mobile tablet. Yes, Surface Pro may not be what you expect from a 2013 tablet because it's in a different category. Source
Quality looks fantastic. This is where the Surface Pro could really shine. It is, without a doubt, one of the best-finished 10" tablet PCs I've ever seen.
There's a fan though, actually two…
Surface Pro runs on a Core i5 CPU. Even it's going to have one of the new lower-power Core CPUs it's going to need a fan. The Verge are reporting that the fan noise is not intrusive. The Verge say 'silent' but let's remember that they are at the CES trade show!
Digitiser and other Pro features
1920×1080 with IPS (very important for tablets) display, mini DisplayPort, USB3.0, Micro SDXC, Windows 8 Pro. There's another feature too and this fits perfectly in this class of tablet – a digitizer with pressure-sensitive pen. The Verge found that the "tracking was very precise." Forget signing PDFs with a finger on a capacitive display, a digitizer layer is needed for that and students are going to be interested in this feature on the Surface Pro. Accurate annotations are critical for these users. Educational and business targets are clearly in the sights of Microsoft. There's a great image of the digitizer pen magnetically attached to the Surface Pro at The Verge's article. Out of respect to The Verge I'll ask you to click through and check it out.
The Surface Pro could be the best Windows TabletPC so far but in my opinion it's not a consumer tablet. Readers here might be interested though.
Surface Pro pro looks good, performs like a desktop, is well designed, has a digitizer and is coming soon.
When? We don't know. How much? We've got an idea.
Thanks, The Verge. Click through for the full report.
The Surface Pro details and further reading are in our database.
Update: Engadget also have hands-on with the Surface Pro.