The Toshiba Satellite U845t is a U845 with a 1366×768 touchscreen.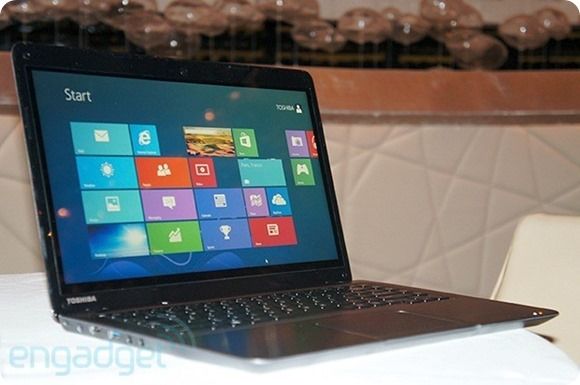 This is a slightly confusing announcement from Toshiba USA because Toshiba Germany had told us that the U840 was going to be replaced with the other budget Toshiba Ultrabook, the U940 which we reviewed a few weeks ago.  Both are budget Ultrabooks so why run two models when one would satisfy the requirements? Toshiba USA appear to have continued to use the older U845 and not launched the U940 yet.
Engadget's report on the new model comes from a CES 2013 press party so perhaps there's more to the story. The U845t will cost $800 (which we find expensive considering the U845 is going for $529 today and the U845 Windows 8 Ivy Bridge version for $599) and has no other improvements that we can see yet. We'll keep an eye on this and try to find out why Toshiba UAS isn't going the U940 route. Meanwhile, hold back a bit and wait for the street price on this one to drop to more realistic levels because at that price we'd rather have a Lenovo Yoga 11S
More images over at Engadget.