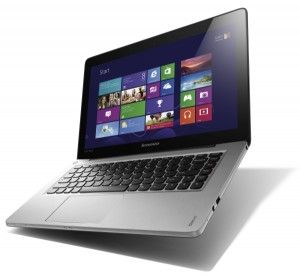 We're expecting a number of Ultrabook refreshes over the CES 2013 week and here's the first of them. The Lenovo U310 and U410 are getting a touchscreen upgrade.
Liliputing reports a fairly straightforward refresh with 1366×768 touchscreens on both the Lenovo U310 and U410 and starting prices of $779 and $850 respectively. There will be an optional Nvidia GeForce module on the U410. Availability is said to be March. We're assuming all CES info is for the US market only so other markets may get different timescales.
We really hope that Lenovo have taken the time to look at their WiFi setup though; There have been many reports of problems that could be deal-breakers for some if they continue on the new models.
We're looking forward to hands-on and the question of WiFi performance over the next week  from CES 2013.
More images over at Liliputing.
Update: Lenovo IdeaPad Z400 and Z500 laptops will launch with touch supporting our prediction of a mainstream trend to touch on Laptops.