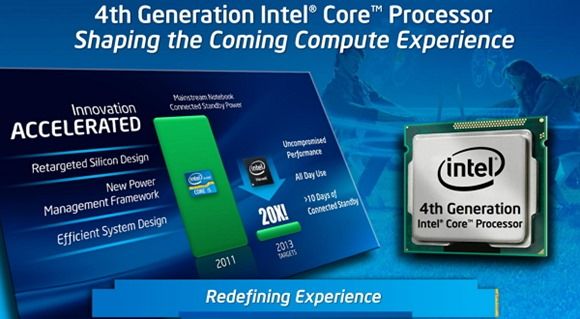 I mentioned the timeline for Haswell-based Ultrabooks in an article about Connected Standby yesterday so let me just bring that up-front for you to see (and discuss) today.
After IDF 2012 in Sept last year I was under the impression that Intel may have accelerated the program for Haswell but now, after analyzing what happened at CES 2013 I'm of the opinion that the rollout will mirror what happened in 2012 with Ivy Bridge. We'll get another set of news to analyze after CeBIT in March and IDF Beijing in April and I'll update this timeline as changes occur.
Ultrabook Timeline 2013 Estimate.
Last update: Jan 18 2012
Jan 2013 – Teaser! Ivy Bridge concept design shown.
April  – Expect Haswell Ultrabook 'soft launches' (controlled leaks, tip-offs) Look for some price drops and special offers on 1st-gen Ultrabooks. Pay attention to IDF Beijing for signals.
Mid May – 2-core, low power Intel Haswell silicon production to start
End of May – 1st shipments of Haswell reach 'first-in-line' Ultrabook manufacturers.
1st week June – First production run of premium models of new Ultrabooks and possibly MacBook Air 2013.
5th June – Computex launch of Haswell Ultrabooks.
After the Computex launch, manufacturers will be able to start their official marketing for new products. Expect 5-10 new Ultrabook launches in the first few days at Computex.
3rd week June – First products hitting shelves in main countries. (Taiwan, Japan, USA.) Watch for Apple MacBook Air during this period.
End of June – Ramp-up of availability for early models from tier-1 manufacturers including other main countries. (Germany, UK, Canada, Australia, Western Europe)
July – staged availability of mainstream models and 2nd-tier manufacturers. Look out for the 'back-to-school' offers in the USA. Big marketing push.
August – Street prices starting to drop to sustainable levels (-5%, –10%) End of back-to-school offers. Production numbers increase to feed the Q4 sales period.
Sept-Oct –  Q4 launches, holiday season marketing ramp-up in many of the large geographical markets. Intel provides early details of 4th Gen platform.
Oct-Dec  Wide availability of Haswell Ultrabooks at competitive pricing.  Tail-off on production of 2nd-gen Ultrabooks. Stock clearances should provide good offers.
Dec – Next-gen marketing. At this stage we have no real knowledge about what could happen in 2014 (for the 2015 market.)
Main features of Haswell-based Ultrabooks:
All will have touchscreens. (Read more here)
All will have WiDi and Mirasol wireless 1080p capability (and USB back-channel)
Some will have Connected Standby (which means primary SSD) and vastly improved battery life. Read more about Connected Standby.
Improved CPU performance, reduced size, improved efficiency (Read more about Intel Haswell)
Lower TDP for smaller and (possibly) some fanless tablets.