CES 2013 has kicked off and this year I'm in the studio reporting across the handheld and Ultrabook PC space. For UMPCPortal that means 'Clovertrail' and 'Bay Trail', the latter being important as it's the first time the Atom platform will get a new architecture.
Clovertrail has brought the handheld PC space alive again and we've reported a number of times on Clovertrail-based products over the last three months. As the only PC platform that's Connected Standby capable it's a huge step forward and although the current designs use at least 10-inch displays there's potential here for 8.9-inch and even 7-inch display Clovertrail devices.
During CES we'll be looking for information on the Lenovo Ideatab Lynx, Fujitsu Arrows QH55J, Lenovo ThinkPad Tablet2, Dell Latitude 10 and the HP Envy 2. Naturally we're looking out for new devices based on Clovertrail too. We'll bring you the news as we find it.
Moving on to Bay Trail then, it's the next generation, 22nm-based Atom architecture and it's a big change. Leaked roadmaps mention a 2014 availability (1st Quarter) so don't get too excited just yet but some of  the details are very interesting.  You'll see a higher TDP but don't worry because there's a lot more on-board here including a variant of Intel's graphics unit. A move away from PowerVR means better control over drivers and hope for Linux fans!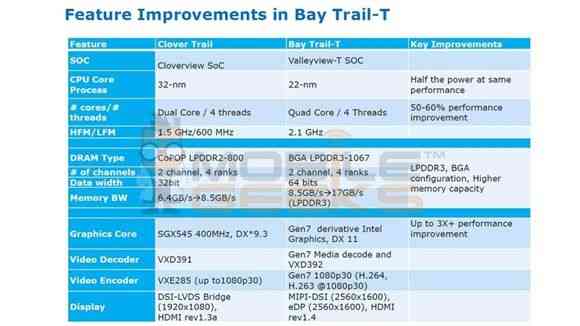 The SoC is known as Valleyview-T (where Clovertrail used a Cloverview SoC) and it will offer up to 4 cores. Display support will be improved above 1920×1080 and the graphics could be much more powerful. We expect huge improvements in media encoding and decoding efficiency and speed. Storage will still be eMMC based but USB3.0 support will be added.
With Intel's Haswell platform reaching down into 8W TDP space and Bay Trail reaching up where Pentiums and Celeron processors were operating a few years ago there's little space left for these brands. Haswell will also offer Connected Standby features so there's a possibility that there will be a crossover of platforms in the 10-12.5-inch space with 'Pro' tablets offering true desktop capability and the consumer tablets focusing on style, weight, value and mobility.
Intel's press conference is happening later today so I'll be analyzing it for answers to the above questions.
Bay Trail information via MobileGeeks.