I wrote  about AMD Temash yesterday at Ultrabooknews but it's a solution that reaches into ultra mobile PC space too and it means I have to write two articles!
Although it's an Ultrabook-class processor, it's down-clocked, has a Turbo feature and sits in the 4-6W TDP range. It's an SoC too so this solution now becomes a very interesting competitor to both Clovertrail  and Ivy Bridge. It's possible to get Ivy Bridge into a tablet see the Surface Pro but AMD Temash, like the Fusion solutions that were introduced for Netbooks, seems better positioned.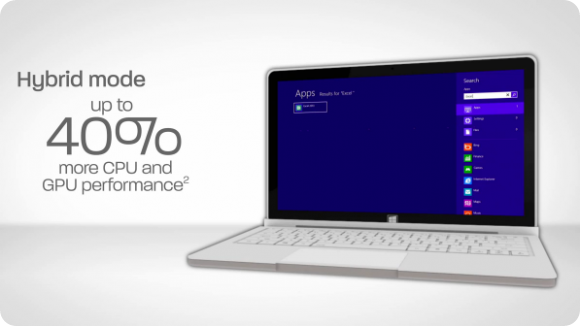 Take a look at the article over at Ultrabooknews which highlights the new performance figures for the platform and shows the new 'dock' feature. The dock allows the Temash platform (actually only the AMD A6 1450 at the moment) to overclock when it is docked. We don't have a feel for battery life advantages yet although there's mention of a new lower-power state and advanced 'gating.'
Unfortunately AMD haven't gone the whole way to provide an external PCI bus and higher-power discreet graphics in the dock but maybe the GPU in Temash is already powerful enough. It certainly competes with the HD 4000 in Ultrabooks.
I'll be at MWC next week so I'll have a change to get more details on Temash and Temash-based products.
It's good to see competition in the Windows 8 mobile CPU space.
Source: Ultrabooknews