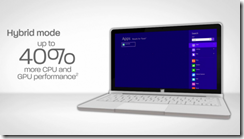 AMD will be at MWC next week to highlight their Temash range of  Windows 8 tablet SoCs. They've release a teaser for what they call a Turbo Dock system and given away  a few performance specs at the same time. It looks nicely positioned between Intel Clovertrail and Ivy Bridge solutions.
AMD announced the new tablet-level SoCs at CES in Jan. Temash, is promising 100% better graphics power than Hondo (Z-series) APUs  but with the new test figures from AMD we can see that the AMD A6-1450 Quad Core 1.0GHz APU SKU (with Radeon HD 8280 Series graphics) is very much an Ultrabook-class CPU. It's down-clocked like some of the recent Ultrabook/Hybdrid offerings from Intel and will have a TDP range of 4-6W.
The 1Ghz clock means that you won't see that same performance as a 1.7Ghz Ultrabook but clock-for-clock AMD could be ahead of, say, a 1Ghz clocked Ivy Bridge Part.
The teaser video shows a docking station allowing the tablet CPU to boost as it's given extra cooling. There's nothing new there though because that's what the Lenovo Helix does. Lenovo says that the Helix generates the equivalent of 7W TDP when in tablet mode which would indicate that Lenovo are simply enforcing 'TDP-down' when undocked. It's likely to be an 800Mhz system.
The video has some small print though and we have to tip our hats to AMD for being so open about their claims because the small-print contains some performance data.
The 40% CPU boost is claimed with the following statistics.
AMD A6 1450 Cinebench 11.5 multi-CPU performance: 0.99 in 1Ghz tablet mode. When docked with 1.4Ghz "Turbo" the Cinebench score is 1.39.
AMD A6 1450 Cinebench 11.5 multi-CPU performance
1.39 Ciniebench at 1.4Ghz
0.99 Cinebench at 1Ghz assume 6W tdp
approx 1 per GHz
Core i5 3317U Cinebench 11.5 multi-CPU performance (in Samsung Series 5)
1.63 at 1700Mhz
0,67 at 800mhz
approx 0.9 per GHz
A 3DMark 11 score was given too and the results look  better than what the HD 4000 can produce.
AMD A6 1450 3DMark 11
537 at 1.4Ghz
379 at 1.0Ghz
Recent Ultrabook tests indicate a 3DMark of around 600 when using a 1.7Ghz part and Turbo boost.
Temash seems well positioned to work in lightweight Windows 8 tablets that are much more powerful than Atom Clovertrail tablets and more price competitive than Intel Core-based tablets. It's good to see AMD pushing hard and providing the competition.
Haswell could walk all over this segment in 2014, especially if they enabled Connected Standby on Windows 8 but for the second half of 2013, AMD might have a nice well-balanced product that offers value pricing and good competition even when the first Intel Haswell tablets are introduced.
We're at MWC next week where we'll do our best to check out what AMD has to offer. We wouldn't be surprised if we saw a new AMD-based Acer Iconia Tab to replace the W500. A W600(?) would sit will between the Clovertrail/Connected Standby capable W510 and the High-end W700.