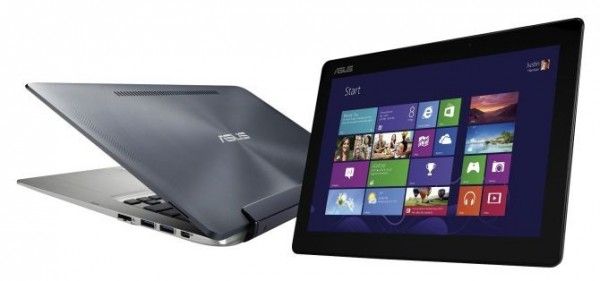 Back in June of 2012 Asus unveiled the Transformer Book, a (at the time) unique Ivy Bridge Ultrabook convertible with dockable keyboard. The Transformer Book created quite a bit of excitement and interest as a device that could function as both a tablet and a powerful Ultrabook laptop. We knew we'd have to wait until the launch of Windows 8 before the unit came to market. But when that date, October 2012, came and passed, we started to worry about the Transformer Book. Now, 9 months after its original announcement, we're wondering if the mythical Ultrabook convertible will ever make it to market.
It's a shame that Asus wasn't able to get the Trasnformer Book out the door early-on. While the unit was at once one of the only Ultrabooks convertibles announced with a detachable keyboard, there's now a bevy of such devices, like the ThinkPad Helix and Fujitsu Stylistic Q702.
Still, given the quality of Asus Ultrabooks that we've seen in the past, we're still quite excited to see what the Transformer Book is all about.
Asus has been touting the unit since all the way back in June of 2012. They've re-marketed it at several events through 2012 and 2013. They've even put up several official pages and microsites across their website. And despite all of the official info, there's no indication about where you can actually buy the product. I'm sure many have had Fry moments regarding the Transformer Book.
The latest that we've been able to track down is listings of the Transformer Book from two resellers.
The first is MacMall which has the TX300CA-DH71T model (Core i7 3517U, 4 GB RAM, and 500 GB HDD + 128 GB SSD) for $1480. Currently the site says that if you call to order, you'll get it "when it arrives" at the store.
More interesting is the listing we found from ShopBLT which even has some dates for us. They've got the same TX300CA-DH71T model listed for $1454 and have the unit listed as 'on order' with estimates of the first shipments arriving at one of their warehouses next month.
It's unclear how accurate ShopBLT's dates are, but we can only hope that the Transformer Book hits the market soon. If Asus waits much longer, they'll be going up against next-gen Haswell Ultrabooks! Maybe they've even resolved to wait for Haswell at this point?