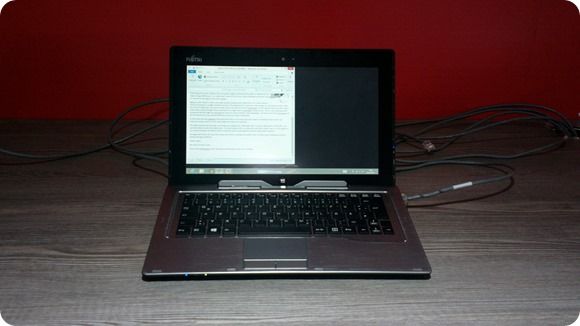 I've had a very productive week at Mobile World Congress thanks to the Fujitsu Q702. It was worry-free, adaptor-free and charger free because for the first time, I managed to get through a long day's work without a charger. I also learnt about things I don't need at a conference. VPro was one (no surprises there for this independent worker) and the detachable tablet was another.
The Fujitsu Q702 has been kindly supplied by Notebooksbilliger.

I often hear people saying "oh it does 95% of what I need." Bzzzt! Let's turn that around shall we? Are you saying it doesn't do 5% of what you need? A 'solution' that doesn't cover 100% of requirements is not a solution. The only solution is one that achieves 100% or more. The Fujitsu Q702 is one of those solutions. It fits the mobile productivity scenario well by offering ports, power, battery life and quality. WiFi quality and 3G quality is superb and can make a huge difference. You really don't want to be on the 2.4Ghz battleground when trying to connect to the WiFi in the press centre.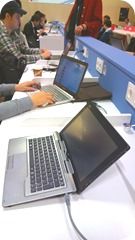 What you also need is a very, very high quality working fascia. While the 11.6" matt screen is fine for working in a single-window scenario, the keyboard isn't quite as I had hoped. It's accurate but very small for an 11.6" keyboard. As for the mousepad, it's the weakest point on the Fujitsu Q702. How Fujitsu thought they could drop in a single touch mousepad is beyond me. The mousepad is also picking up the occasional thumb edge and causing the cursor to move position, mid-paragraph. I've had to turn the mousepad off for this article and I'm using touchscreen and cursor keys to control the pointer/cursor.
Full SD card slot and Gigabyte Ethernet have been in use every day but I have to remember that I don't use external screens when on the road. HDMI and VGA isn't required so, for me, a DisplayPort could be an option.
Fantastic battery life.
The killer feature here though is the battery configuration. Although I don't use the tablet part of the Q702, I do use the battery inside that tablet part. The total battery life is an easy 6hrs and with careful use it's a 7hr laptop. If you want complete confidence when traveling, buy an extra battery and hot-swap when needed.  Here are my projected battery life figures for this week based on real usage and recorded by Windows 8. See the command "powercfg –batteryreport" to see your own Windows 8 battery life figures.
2013-02-23
7:13:32
2013-02-24
6:58:09
2013-02-25
7:34:40
2013-02-26
5:51:23
2013-02-27
6:59:45
Other notes
Storage hasn't been an issue this week and I think I could go for another two or three major tradeshows before having storage problems.
No noise or heat issues
One or two Bluescreens after docking/undocking/coming out of standby.
Speaker quality is adequate
I don't feel I'm carrying a stylish bit of kit
A 13" screen would, in all honesty, make not difference in my bag as long as it was the same weight.
Is there an alternative to the Fujitsu Q702?
The Q702 is a unique bit of kit for the moment. Even if you don't need the tablet feature for work, you might want it for play. I'm sure that I'd be happy with the tablet as my TV companion in the evenings although it is a little heavy, and very expensive to be using casually.
You won't find that battery capacity anywhere else either!  If you want an Ultrabook under 15″-inches  and with a battery life of over 60Wh you'll have to search for the Fujitsu SH772 or take the lightweight 15-inch Samsung Series 9.
Is it for me?
As someone who types, a lot, every day, the Fujitsu doesn't quite match up to my requirements due to the cramped typing style and inferior mousepad. A series 9 15-incher, an Ultrabook I've seen a lot of here in the press room at MWC, would be a better match but for those that don't need the keyboard for 3-hour long typing sessions, it's a really solid high quality choice.
As a professional travel PC it's at the top of the list, especially if corporate PC management and security is in the mix. If you think the Q702 might be for you too, don't hesitate to ask questions below.
The Fujitsu Q702 has been kindly supplied by Notebooksbilliger.