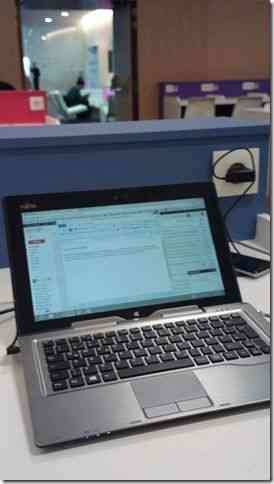 After all the Clovertrail testing last week the plans to take a consumer tablet to MWC took a turn at the last minute. The Fujitsu Q702 turned up for testing and it bumped itself to the top of the list based on some amazing specs; the first and most important of which is a total 70Wh battery with 44Wh of that as a replaceable in the base. Hot-swap goodness!
Depending on your stance, this Fujitu Q702 is either a 11.6 inch ultra mobile PC – a tablet that weighs 850gm and includes a full Core i5 platform, or an Ultrabook when docked.
At 1700 Euro this is not something you buy without thought but here are a few things that might tempt you.
 Matt capacitive display with digitizer and pen (stowed on base)
3G (Sierra Wireless Gobi with GPS)
2×2 WiFi
Fingerprint reader, VPro and TPM
Full SD, Full Gig E. Full HDMI, Full VGA, Four USB ports
Array mic, two webcams, very fast SSD
 Windows 8 Pro.
In yesterdays test I got a good 6hrs of work out of the Fujitsu Q702 with about an hour to spare. I have the mains cable with me today but it will probably stay in the hotel tomorrow.
My apologies to those who wanted some Clovertrail action. It was a risk that I was prepared to take but when the Q702 turned up, there were to many reasons to take it instead.
For information on what I'm doing at MWC this week, see this post at Ultrabooknews.