Update: Session finished. The overview videos are available as a continuous playlist below.
A little bit of gaming, a comparison of Ultrabook size and form-factor, touch and non-touch discussion and a lot of live chat. That's pretty much what you'll find if you tune into the Ultrabooknews live videocast tomorrow.  If you're lucky you'll see me blow-up or drop another device!
I'll be here from 2000hrs Berlin time tomorrow (Sat) for 2hrs to show you three new touch Ultrabooks and to offer answers to your questions so drop-in, join the chat and find-out about touch Ultrabooks.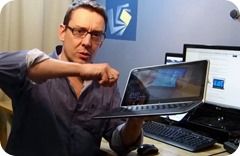 I'll have the following devices in the session:
ASUS Taichi 21 [info]
Samsung Series 5 Ultra Touch (SSD)[info]
Dell Inspiron 15Z Touch with Nvidia GT630M [info]
The plan is to give you an overview of the devices in the first 45 minutes and then to do demo's based on your requirements. I'll set-up some gaming demos and have plenty more to talk about and demonstrate.
Bring a beer and enjoy the chat. No login or account required.  The session will run here:
Sat 9th Feb. 2000hrs Berlin Time. Your timezone listed here.
The session is free but advertising is occasionally shown by the provider.