When Microsoft first announced the Surface tablets back in June 2012 they didn't reveal much about the Surface Pro other than it would run an Intel processor and launch 90 days after the RT version launched on October 26. It wasn't until November that Microsoft provided more info on price and hardware specifications. Last weekend I was lucky enough to pick up a retail version. Here's my review.
Surface Pro Specifications
Core i5 processor @ 1.7GHz
4GB RAM
10.6″ 9 ClearType with 1920×1080 full HD resolution
Full digitizer and ink support with Palm Block technology
Full-size USB 3.0 port
Bluetooth 4.0
Wi-Fi 802.11a/b/g/n
Mini DisplayPort (displays up to 2560 x 1440 resolution)
microSDXC card slot
Weight: 907gm / 2lb
There are two versions, a 64GB version @ $899 and a 128GB version selling for $999.
More details, links and videos in the Ultrabooknews Surface Pro information page.
Build, Ports, Ergonomics
We're talking about a pure Windows 8 tablet here running on a capable processor and including a digitizer layer. As a fully-capable Windows tablet it's light. The Surface Pro is similar in style to the Surface RT but is heavier at 2lbs and a few millimetres taller. Build quality follows the high standard set by the RT but just feels more substantial. It has the same VaporMg casing but adds what Microsoft calls perimeter venting all along the rear edge. The signature kickstand is present and supports the tablet firmly and with it extended the tablet sits square on a flat surface with no discernible imbalance. Overall it feels good and surprisingly compact in the hand but the weight means it becomes uncomfortable to hold for a long period of time, how much though will very for each individual.
Don't expect a full complement of ports but Microsoft have done well considering the space limitations.  USB3.0 and DisplayPort offer the best data and video output possibilities but there's only a single USB3.0 port. A MicroSDXC port enables storage expansion but isn't much good for swapping data between devices. A 'cover' port (for the keyboard), headset port and power port complete the line-up.

Screen
The FullHD (1920×1080) screen is clear and crisp with very good viewing angles vertically and horizontally and at maximum brightness is extremely bright; colours look vibrant with good black levels. It feels very smooth to the touch and responds to taps and swipes with no issues. It also responds well to the pen input when used for note taking and the palm rejection works as expected.
The pen itself is sized like a regular pen so is comfortable to hold though its made of glossy plastic which may make it slippery under certain conditions. It has a magnetic attachment on the side which clicks into the power charging port while doubling as a button.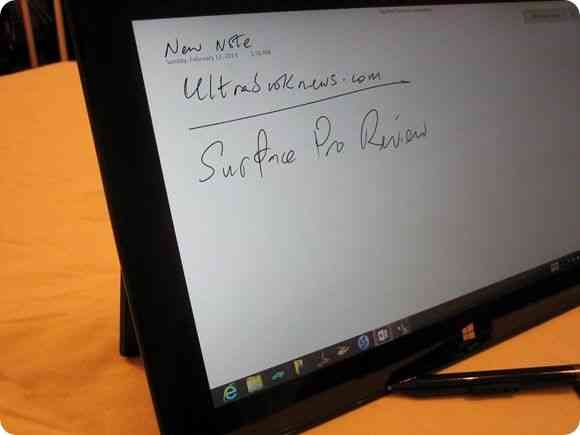 Performance – Benchmarks, real world
In use the Surface Pro deals with normal computing tasks with no complaints thanks to its Core i5 CPU and 4GB of RAM. Programs open swiftly, browser pages load fast and generally navigating through the OS feels snappy with instant responses to input whether in the desktop or the Modern UI. Though the HD4000 is not the last word in gaming it can handle games from the Windows store with no problem, though it takes a heavy toll on battery life and generates enough heat to get the fans going, which are noticeable under heavy load but silent during normal use. The loudest I have heard the fans was when running the hardware benchmarks when it got really loud but unless you are stressing the unit constantly it wont be a problem.
Hardware used for Wi-Fi is a Marvell AVASTAR 350N Wireless Controller rather than an Intel controller so WiDi is not supported. The connection though is stable and streams multimedia ok though the signal strength displayed by the status icon shows fewer bars than other devices used in the same area. So far there have been no issues with dropped or limited connections.
One issue that I noticed with the HD screen was that when watching YouTube videos full screen the controls were extremely small and became difficult to hit as a result.
Surface Pro Performance Tests
The tests were carried out with the Surface plugged into power on the Balanced power plan.
CrystalDiskMark
Disk performance is very good and this will help to keep the system feeling responsive.
For comparison, here's the CrystalDiskMark for the 128GB, Core i5 ASUS Taichi as recorded in the Ultrabooknews review. (SanDisk SDS5E2128G1002E)
Cinebench

Microsoft Surface Pro Cinebench OpenGL Score: 15.3 FPS
Microsoft Surface Pro Cinebench CPU Score: 2.36pts
Cinebench scores come out comparable to devices in the Ultrabook category. Here's the score for the Core i5 ASUS Taichi 21

PCMark 7
Surface Pro PCMark 7 Score –  4602
Other scores from the Ultrabook category…
ASUS Taichi 21 (Core i5, 128GB SSD, balance battery mode) – 4522
Dell XPS 12 (Core i7) PCMark7 = 4895
Lenovo Ideapad Yoga 13 (Core i7) = 4615
Lenovo Thinkpad Twist (Core i5, mains power – balanced mode) = 3386
Lenovo ThinkPad X1 Carbon (Core i7) = 4832
Samsung Series 9 2012 15" (Core i5 3317U, balanced battery mode) = 3129
In general there isn't much more performance that could be delivered from this Core i5, SSD, 2Lb device. Microsoft have done an impressive job for such a small PC.
 
Battery life, weight, Type cover keyboard, Speakers
The one common point mentioned as a negative of the Surface Pro has been the low battery life and unfortunately that is the case in real life usage. With the power save plan set to max 25% CPU usage and brightness set at 20% the battery life holds steady at the 4-4.5 hour mark with web, email, document editing, music and videos. Doing anything more demanding requires you be aware of your closest power outlet! Overall though it's not really a surprise when you consider the specs and is not that different from some other laptops or Ultrabooks so in the end it hasn't been an issue.
When it comes to weight, at 2lbs it's heavier than your typical tablet but lighter than a lot of Ultrabooks. Practically it has not been a problem carrying it around or holding it to use as a tablet though that will depend on individual preference. Going back to the heat, under normal use it feels warm to the touch and doesn't get hot even under heavy load, more like very warm but not hot to touch so far with my usage.
I am using the type cover keyboard and it's actually a pretty good keyboard. I don't have big hands so find the keys acceptable and it doesn't feel cramped to type on. The couple of negatives I've found have been occasionally missing key presses and the small trackpad which makes it tricky to do some tasks with Windows 8 like closing an app. However it's something I'm getting better at so maybe with time it will become easier to use. Not all Windows 8 gestures are supported like opening the charms but it does support tap to click, 2 finger scrolling and 2 finger right clicking. It doesn't add much at all to the overall size and weight of the Surface so if a lot of typing is a requirement the Type cover is the better bet of the two Microsoft keyboard covers. The type cover also adds regular PC function keys alongside the Windows 8 shortcut keys on the topmost row of the keys but has only 1 FN key on the left side of the keyboard which must be pressed to activate them relegating them to secondary status.
I also tested using the Surface Pro and Type cover on my lap and it is very usable. Of course it is not as stable as a regular laptop and thus makes it difficult to use it in some situations but situated level on your lap it is definitely stable and doesn't give the impression that it will topple over at a moment's notice and is much less of an issue than it might seem on first glance.
Audio from the speakers is ok, it has good clarity but is just adequate when it comes to actual volume levels; it doesn't get very loud but within its range it's clear and balanced. Adding effects like Loudness or Bass Boost tend to make the speakers distort at the maximum volume level and doesn't really seem worthwhile. And there's also a bit of a low end to the sound which rounds it out nicely and makes the sound more balanced, avoiding producing a tinny sound.
Issues
So far the Surface Pro has been stable with no crashes, hangs or slowdowns within the OS. It has woken from sleep every time the power button has been pressed however occasionally at the login screen with the Type cover removed it has not recognized that it was not present and would not bring up the keyboard when the password input was selected.This normally occurred when the cover was removed while the Surface was in Sleep mode, reattaching the Type cover resolves the issue.
A usability issues arise with the Type cover and enabling Caps lock, as there is no visual indication that you have entered this mode. The only indication is probably when your input is rejected and you receive a warning that Caps lock is on.
Summary, Target Customer
So after the long wait the Surface Pro is finally here, was it worth the wait? That is a hard question to answer and will depend on your computing requirements. It can probably be best answered by looking at the target customer. This is not a tablet for the average consumer whose main activities will be consuming media, email and web browsing. For the power user who needs to work with powerful business programs like Outlook but who may also be mobile and requires portability it will fit their needs nicely. It has the power, connectivity, portability and flexibility to meet a lot of power users computing needs but has the one drawback of battery life, at least when looked at in the context of mainstream consumer tablets. For comparable hardware running in laptops and Ultrabooks though it fares better and when looked at from that perspective and considering the portability offered it could be an attractive solution. If the laptop-like battery life is not too much of a limitation the Surface Pro is probably the ideal portable workstation and also has the distinction of currently being the best constructed, and highly sought after Windows 8 hardware you can buy. At the very least, give it a try if you can, you might just be as bowled over as I have been.
Alternatives
There are a number of Core-based tablets in the market that have docking keyboards. This list is continuously updated with new products and new information. Click through for details and even more information from our database.