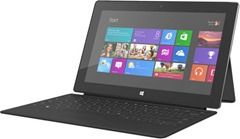 A 10" PC running a Core i5 CPU with 4hrs of battery life, in 2lbs of weight – that's one amazing achievement. It's the smallest Core-based PC you can buy and one of the lightest too. There's no question that for road warriors, hot-deskers and those wanting one PC for everything, it's got be near the top of the list. The reviews are  praising the WiFi performance and SSD performance, low-noise and build-quality so it seems that the Surface Pro has delivered one of the best possible all-round ultra-mobile PCs. For the consumer, it's not your ideal tablet.
You'll find all the specs, new videos and links to many reviews in our Surface Pro specs page.
Specs to watch
I've read through a ton of reviews for you this morning (all listed here) and have picked out some of the specs and information that was missing. First to note is that the Surface Pro is running on a classic Ultrabook platform and not one of the new low-TDP core CPUs. Combined with a quality SSD and WiFi it puts the performance up there with some of the better Ultrabooks.
WiDi/Miracast is missing which might annoy some as time goes on and there's no GPS or NFC hardware which could have given developers some more interesting features to play with and covered every possible angle but that won't be an issue for most.
The biggest issue we can see though, and we think it's going to affect a lot of pro users, is that there's no docking station or docking keyboard. Yes, you've got a couple of optional keyboard options but neither will have USB, DisplayPort or an additional battery like the ASUS Transformer Book. A built-in stand helps and we know it's possible to dock via a single USB3.0 port but even so, 2lb of quality dock with backlit keyboard, battery and ports would have been very useful, especially as there's no removable battery on the Surface Pro.
Missing from the Surface Pro: Mic array, Smart Connect, WiDi, Wi-USB, GPS, NFC, removable battery, TPM (unconfirmed), VPro
Battery Life
As we predicted, battery life is an issue for those coming from consumer tablet space. For those coming from a TabletPC of just 2 year ago will be impressed though. For the weight, 4-5hrs of screen-on, WiFi on usage is a dream.
Weight
2lb of tablet is heavy when you're casually consuming but again, for those coming from the professional space the 2lb digitizer-capable device is a dream.
Price
$899 for a 64GB Tablet is heavy,if you're looking at it from the consumer space. $899 for a TabletPC with digitizer and full HD screen for the pro is, you guessed it, a dream.
The Microsoft Surface Pro is for professionals. That market isn't huge but it's a market that's crying out for a new ultra-mobile solution. Consider the Microsoft Surface Pro from that angle and I think you'll agree Microsoft have come up with a very attractive product.
Alternatives
You've got 5 alternatives to the Surface Pro. View them all in our database here.
Wait for Surface Pro 2?
If you're looking at the Surface Pro with a casual eye I say wait. 4th-gen Core will be bringing some big improvements in the latter part of 2013. Surface Pro 2 could be so good that Microsoft only need one model.
We're working on picking up a Surface Pro at the weekend.
You'll find all the specs, new videos and links to many reviews in our Surface Pro specs page.