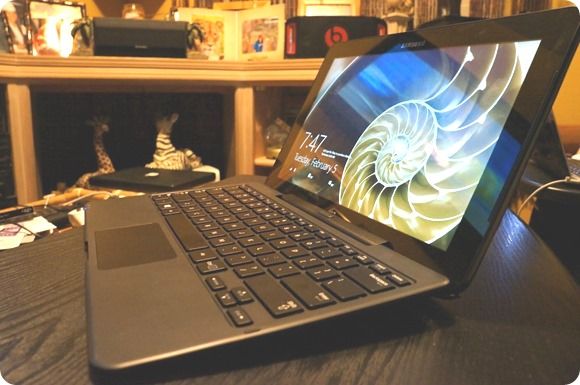 A big thank-you to Hector Gomez for writing up this excellent and detailed owner-review of the dockable Samsung Series 7 Tablet / Smart PC Pro ATIV 700T. Hector has owned many other mobile devices in the past and recently reviewed the Smart PC ATIV 500T for us over at UMPCPortal. The 700T review paints a very positive picture of this Ultrabook Convertible and Surface Pro alternative.  Pay attention!
I won't go into too much detail on the specs for the Samsung Smart PC Pro ATIV 700T but rather my experience using it. I have already tested out the Samsung Smart PC ATIV 500T running the new Intel Atom Clover Trail. The Smart PC Pro ATIV 700T comes with the new Intel Ivy Core i5 processor, which is the 3rd generation. Let's take a look at what you might expect from the Samsung Smart PC Pro ATIV 700T.
The Samsung Smart PC Pro ATIV 700T is heavier than the current Atom Clover Trail tablets that are out, so if you expecting to have something that you can carry around all day as a tablet, you might want to look for something in the 10.1-inch display like the Acer W510 or the Asus Vivo Tab Smart.
I am seeing that the Samsung ATIV Smart PC Pro 700T is filling the Ultraportable, Tablet, desktop replacement and Chromebook replacement all in one Hybrid package. Read along and find out if the Hybrid Tablets can fill the gap for you as well.
The Smart PC Pro 700T comes with the following:
11.6-inch display
Windows 8 64-bit
1920x1080p 400nit display for crisp text, (but comes at a price in the desktop mode).
1 – 3.0 USB Port on the tablet
2 – 2.0 USB Ports on the keyboard dock.
Intel i5 Core Processor
4GB DDR3 RAM
128GB SSD (Liteonit)
Intel HD Graphics 4000
WiDi Support
GPS on current testing unit ( certain models don't come with GPS).
NFC
10 Point Multi-touch.
WiFi 802.11 a/b/g/n
BT 4.0
Samsung claims 8 hours battery life and 5 hours of video playback
Tablet Weight  857gm
Specifications, links, images and more in the Ultrabooknews product database.
Unboxing the Samsung ATIV Smart PC Pro 700T
First thing first, the Samsung ATIV Smart PC Pro 700T has been my desktop replacement connected to my 22-inch monitor with Logitech BT keyboard and Sony BT mouse. I have been using it for work and home. I have also upgraded to Windows 8 Pro and installed the Windows Media Center.
Samsung ATIV Smart PC Pro Display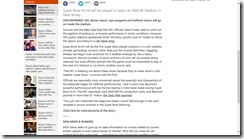 Click to see full-size 1600×900
Having a 1980 x 1080 display resolution is just great! After using the Samsung ATIV Smart PC Pro 700T and using any lower resolution is just not the same. Yes, the desktop fonts will be smaller and not the best for touch screen but you can adjust some settings to make it more touch friendly. I will go into that in a bit. For working on documents with this high resolution, everything looks smooth and easy on the eyes. This makes reading web pages, documents and your newsfeed that much better to view and read! Another plus to having an 11.6-inch display is that you are able to have either a Word document and a Excel Worksheet split on the screen and still comfortably be able to continue editing or creating any Word document. This goes for when you want to compare two items from a web page and instead of going back and forth, just split both web pages on the screen.
Another advantage of the higher resolution is movies and videos really show up detail. This has been a joy watching movies on the Samsung ATIV Smart PC Pro 700T. The SuperBright Plus Technology and 400 nit for brightness which is very bright for indoor office work. I can comfortably keep the brightness at around ¼ brightness and up to ½ brightness and can view the screen just fine. Angle viewing is also good, did find that even though it is not an IPS screen, you still get great views from all angles.  If you happen to be outdoors you will have some trouble viewing the screen but you can crank up the brightness all the way up to help you see what you are reading.
If you want to increase your fonts for better viewing of text, here is what you can do.
Right click on your desktop and choose "Screen Resolution"
Here you can increase to 125% and check all to have "Bold" and increase font size.
Samsung ATIV Smart PC Pro Keyboard dock
I find the Samsung ATIV Smart PC Pro with the keyboard dock is an excellent work device. I can quickly undock it from the keyboard dock go straight into meetings and be able to take notes. Another advantage of having the keyboard dock is that the power adapter is connected to the keyboard dock and I just plug in the micro HDMI in the side of the ATIV Smart PC Pro and works as my office desktop computer. One thing I would have liked to have seen is, Samsung should have added a keyboard dock with an additional battery. This would have added some weight to the already 3+ lbs. with the keyboard dock, but I wouldn't have mind this at all. The tradeoff for me would have been worth it! Even if we could have seen an additional 2 hours of battery life, this would have been well welcomed.
If I plan to be out all day, I do turn to my 10.1-inch Asus Vivo Tab Smart that I am testing for all day work without worry of charging or carry the power adapter to charge the tablet.
The keyboard dock has chiclet style keys that are about the same layout as the MacBook Air 11.6- inch keyboard. This has provided me the ability to type up anything I want without any trouble whatsoever. Working in an email, documents, excel worksheets and any other typing I need all day without having to worry about the keys been too cramped. The keyboard dock gives you good feedback from the keys as you type on the keyboard, considering the keyboard is mostly made of plastic; you can expect a very good typing experience with the keyboard dock.  I would rate the keyboard typing 7 out of 10.
You will also get two additional 2.0 USB ports on the keyboard dock located on each side towards the front of the keyboard. I would have liked if the USB ports would have been placed towards the back. When I connect an external USB drive or a USB flash drive, it gets in my way when using the mouse. For me, it is not a convenient location.

The only metal you will find on the keyboard dock is where you dock the tablet, with some plastic inserts to protect the tablet from scratching as you dock and undock the tablet. I thought that the tablet would be top heavy, but seems to balance very nicely. If you push it back with force it will tilt back but any light push it comes back down on the keyboard. Besides the USB ports, there is a PSU port for charging the ATIV Smart PC Pro 700T while it is docked on the keyboard. Other than that, everything is pretty much smooth.
The trackpad feels very plasticky and when you right or left click on the trackpad, it feels and sounds like plastic that is not made of high quality. On the plus side is that it does get the job done while on the road, but at times it doesn't respond very well. You do get the multi gestures on the trackpad which is very nice, makes navigating around with Windows 8 easier.
Now for the bad. Samsung decided to make the keyboard dock a matte finish which wears bad. If you happen to rub on it to clean it in an area, you will get a smudge that will not go away and show up on the keyboard dock.
Keyboard dock video
Continued on Page 2
Pages: 1 2