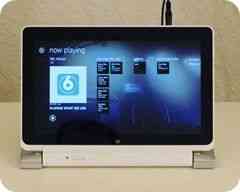 Always-on is the a feature you'll find with Connected Standby-capable Windows 8 PCs.
Some people think they don't need it. Let me explain why you need it.
Connected Standby (or Always On, Always Connected – AOAC) is the mark of a ground-breaking new category of PCs that will not only be always-on capable but will have hardware that is so efficient that it will completely change what you think is good battery life.
I've just completed a 5 hour streaming audio test on the Acer W510 Windows 8 dockable tablet to confirm my previous measurements that were taken from ACPI figures and yes, it's correct. The Acer W510 uses 700mW of power while streaming audio (via WiFi using the Tune-In Windows 8 application) in Connected Standby mode. 700mW is about 8X better than the best Ultrabook I've tested and about 5x better than the best UMPCs. It's consumer-tablet class. ARM-competitive. Amazing.
Connected Standby is a controlled always-on environment and one of the most important parts of Windows 8. The Modern UI isn't just a user interface layer thrown over Windows 7, it's part of what is almost a second operating system running in parallel to the desktop.  In the future you'll want to be running Twitter, Email, Audio Streaming, Turn-By-Turn navigation and other functions through this part of the operating system rather than the desktop because it's going to bring new efficiency. It already does on Clovertrail and you can even use it to run Skype, for days without charging!
Intel's Clovertrail can stream audio with 10x less power usage than your laptop and it's because of Connected Standby and the ground-breaking PC hardware associated with it. Idling-down and controlling hardware like no other PC you've used (unless you've got a Clovertrail tablet!) it will affect battery life in every scenario you can think of. Video playback,  browsing and office use. Clovertrail tablets have taken Atom from 6hr battery life to 10hr battery life. The same will happen with any other laptop that's Connected Standby capable in the future. You want it!
Keep an eye on the new Ultrabooks in June because some of them are likely to be the only laptops that are CS capable. Bay Trail, for the Ultra Mobile fans will be with us with much more power in Q4 2013.