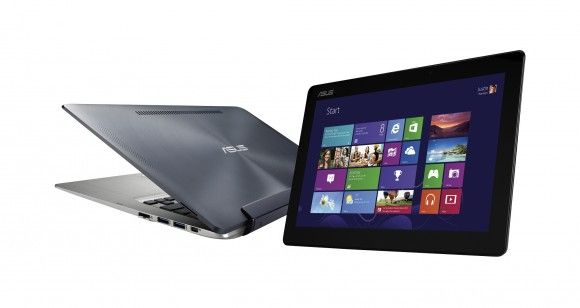 As reported in last month's article the elusive and much desired Asus Transformer Book looks to finally be available for purchase this month and is expected to be ready for consumers eager hands in Japan starting this week with the Core i5 version launching first and the Core i7 version expected at the end of March.
For its Japanese release the hybrid PC will be known as the "TransBook"  and will start at ¥119,800 (about $1,280) for the Core i5 version expected this week, still packing the same specs as before: 13.3″ 1080p touchscreen display, 4GB RAM, 128GB SSD, mini HDMI, microSD slot on the tablet and 2 USB 3.0 ports, mini Display Port, full SD card slot, 500GB HDD and an Ethernet port on the battery-toting docking keyboard.
The Core i7 version is expected to cost about $350 more but will also include Microsoft Office in the price and is scheduled to hit the Japanese market at the end of March.
Update: We've just spotted it in-stock in Cologne, Germany at Saturn.