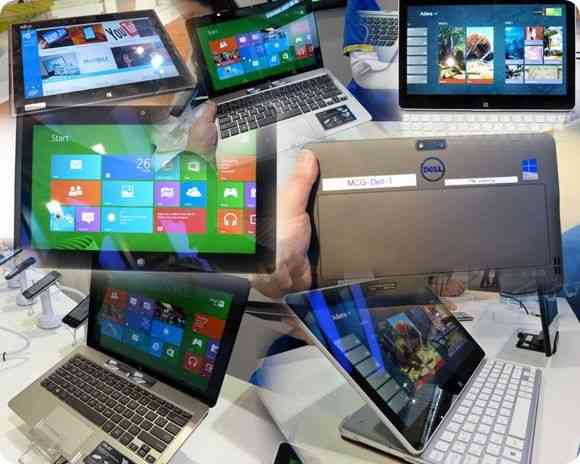 I've finally had good hands-on time with every Clovertrail tablet, hybrid and convertible out there today. There are only 11 so it wasn't too difficult but it's a good position to be in. Which one is the best? Which one has the best docking keyboard? Which one is the best value? Which on is the best for YOU?
At MWC this week I took videos of the final seven Clovertrail-based Windows tablets and the results are below. I've outlined the targe customers and put some thoughts down about what's the best Clovertrail Windows 8 tablet or hybrid.
All the videos from MWC are included in the playlist below and would be worth watching if you're looking for an Ultra-Mobile PC.
LG H160 – A unique Clovertrail product in that it's the only one to have the mainboard in the base unit, rather than having a tablet design. It means the construction is relatively light but there's quite a small battery inside. The keyboard is a little small too and would need some longer-term testing to see if it works out ok. There's a good set of ports but you'll have to be aware that moving parts can break so although many of the other Clover trail tablets also have hinges, the LG H160 Slider has a more complex design.
Thinkpad Tablet 2 – A very smart looking tablet with digitizer layer and at 10 inches it's going to be both mobile and easy to use on the sofa. There's a full USB port and micro-hdmi, micro SD and SIM-card port for 3G versions but there's no docking station for this. Instead you get a Bluetooth keyboard which I'm told, and I read, is very good quality. Unfortunately I didn't get hands-on with that part of the package. The Dell Latitude 10 and HP Elitepad would be the other ones to look at in this category.
ASUS Vivotab Smart + Keyboard – This is a really nice looking entry-level or home-focused Windows 8 tablet and it's coming in at an excellent price, with good styling and a nice accessory keyboard. 580 gramms / 1.27lb is perfect for longer-term handheld use.
The Acer W510 is in this category too and also includes true docking capability with additional battery and port. My choice would be the Acer W510 if you wanted a bit more mobile productivity but the ASUS Vivotab Smart if you just wanted a smart Windows 8 tablet for the home.
Fujitsu Arrows Tab QH582 – Here's one that sits alongside the HP Elitepad as a more rugged solution. Where the Elitepad offers some rugged 'jackets' the Fujitus Arrows Tab is a little more rugged out of the box becuase it's splash and dust resistant making it perfect for harsher environments. It's light too.
Dell Latitude 10 – If you want a replaceable battery, or an extended battery, the Dell Latitude 10 is the one to go for. It's thicker and heavier than the others because of the need for the jackets battery slot but it could be worth it. A standard battery is 30Wh which is good for, say, 10 hours of video playback. The extended battery is 60Wh so once you've bought that you've got a crazy 90Wh of battery! It comes with up to 128GB eMMC, option TPM, optional digitiser, optional fingerprint reader and optional WWAN (3G/4G.) There's a productivity dock too but no dockable keyboard.
ASUS Vivotab 810 – If you're looking for the ultimate Clovertrail hybrid, this one might just be it. Although the Samsung ATIV 500T is also a runner, as is the HP Envy X2, the Vivotab 810 is the most stylish. It's got a good keyboard too. I'm really attracted to this one even though i've personally got the Samsung. Maybe it's because of the battery in the keyboard dock? Watch out though because you feel like you've got a true laptop when the keyboard is docked but, just as with the Samsung and HP, you'll hit the limits pretty quickly if you treat it like one. As a word-processing machine, a travelling office or travel bloggers laptop though, it's perfect.
HP Elitepad – I spent some time looking at the jackets. They're ugly but very functional. A keyboard sleeve, productivity dock and expansion sleeve could make these perfect in environments where the same core system and application is going to be deployed across multiple scenarios. This isn't one for the home user but competes with the Lenovo and Dell for business customers.
My favourite Clovertrail Tablet and Hybrid
I've tried them all now and see them slotting into various verticals. The Acer W510 and ASUS Vivotab Smart are great holiday laptops and home tablets. The Samsung ATIV 500T, HP Envy XT and ASUS Vivotab 810 are all great hybrids with perhaps the ASUS likely to be the winner for most people. Prices need to come down on these models from current levels though.
As for business users I think the Elitepad is on it's own as a specialist business solution. Those jackets will appeal to logtistics, health and the 'blue-light'  industry. The Dell could run with the expansion pack for a huge amount of time so there are some applications here for the service industry and for those that are out all day doing market research (where the digitiser and 3G could be good.) If you're planning to do a week away from mains power, this is probably your #1 solution. I recon I could travel-blog, with an external keyboard of course, for over a week on this solution without a single re-charge although you have to consider that the Acer W510 offers 60Wh of battery with its dock too. The Dell Latitude 10 also offers that full-size SD card slot so mobile photographers – check it out!
What about the Thinkpad 2? It's clearly a high-quality bit of kit but although the keyboard might be nice, it's not a docking-style keyboard. The tablet itself appears to be a high quality good looking device and obviously includes a digitizer so this could be a great home and weekender device but wouldn't one of the hybrids be a better solution? I like the Thinkpad 2 and it looks great but I can't find its niche, apart from being the best-looking 10-inch Windows 8 tablet out there.  Maybe you can help me on that one folks.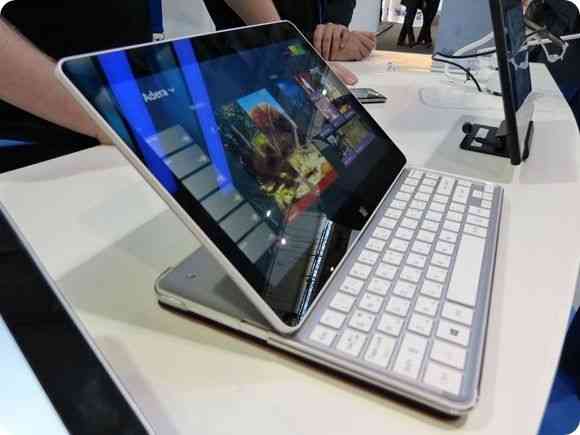 The Lenovo Lynx currently comes at the bottom of my list of hybrids due to a really poor keyboard experience. The LG H160 Slider is an interesting one that needs more keyboard testing before it can receive any recommendation.
One issue I want to raise is that the 11.6-inch Clovertrail tablets with great dockable keyboards offer a near perfect combination for the traveling Windows user but it's not quite enough which, in other words, means they are sub-par. Clovertrail isn't able to handle all the average users' Windows 8 scenarios so unless you can be sure it can do more than 100% of what you need, it's not a solution you should buy – especially as the 11.6-inch devices make poor (large and heavy) casual tablets.  Core-based tablets might be a better choice for many despite the lower battery life and heavier weight. [I'm currently using a Fujitsu Q702 rather than my Samsung ATIV 500 for that exact reason.]
The product that I think fits Clovertrail the best though is the Acer W510. I have a broken keyboard on mine but Acer have acknowledged (to my face) that early ones need sending back for a swap-out so let's assume my keyboard problems are solved. What you end up with is a very nice casual tablet and occasional keyboard for traveling. It's the best holiday PC I've ever experienced and  It's sold at a good price. It echo's exactly what Clovertrail is there for.
Sidenote: I asked Intel why there are no Clovertrail laptops on the market. Wouldn't it make a great Netbook+ platform? Sub 1.5lb laptop with 10hrs battery life and a price of $500 sounds good to me. They wouldn't give me a straight answer so I can only assume that Intel are guiding customers towards Core-based products in this case.
Video playlist – 7 Clovertrail tablets and hybrids.