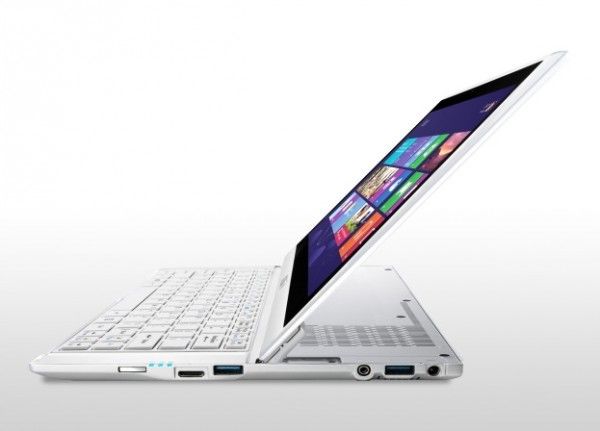 The MSI S20 is a remarkably elusive device. Chippy tracked it down for a hands-on at CeBIT 2013 this week. We first learned about this appealing looking Ultrabook convertible 9 months ago — back in June 2012. We knew we'd be waiting until at least the launch of Windows 8 in October of 2012 before the official release date, but here we are several months after that and the MSI S20 still isn't widely available.
The MSI S20 looks quite nice and, as Chippy notes, the 11.6-inch screen and 1.16kg weight of the unit makes it a bit more portable than other Ultrabook convertibles. However, the complete lack of mouse could be a fatal flaw. In the past we've been happy to put up with mouse-nubs or even optical mice in place of a proper trackpad, but MSI is expecting users to exclusively use the touchscreen for input which would have been a suitable choice for a device running Windows RT, but is less appropriate for a full blown Ultrabook.
Of course you can always hook up a USB or Bluetooth mouse, but that's one more thing you have to have to remember.
MSI S20 U.S. Release Date
Best we can tell, the MSI S20 is currently available in limited markets in Europe for around €999.
MSI had previously announced that the unit would have a release date of the end of January in the U.S, but we're more than a month beyond that date and the MSI S20 still can't be bought in the U.S. The latest we've heard from MSI is that they expect it to be available by the end of Q1 (end of March), so they've got less than a month to go.
The unit has popped up at ExcaliberPC for $1099 but is currently listed as not in stock.
We imagine there are people who would be happy to buy the MSI S20 with its 11.6-inch IPS 1920×1080 display and convertible form factor for that price — MSI just needs to make it available!
[embedsite height=500px src=http://ultrabooknews.com/pullin/productdetails-pullin-generic.php?id=920]