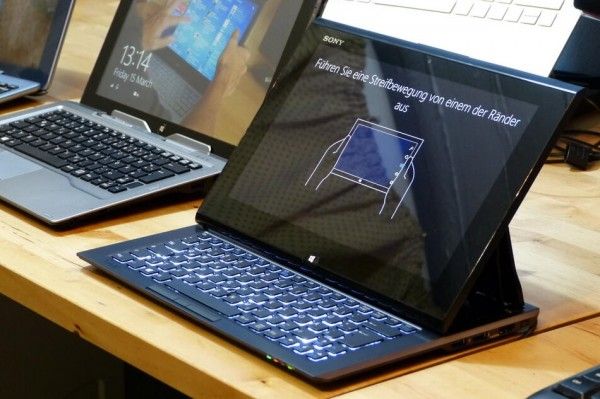 I've just sent back the Fujtsu Q702 hybrid. It was a great, productive all-rounder (Review here) and is also available with Core i3 and without VPro for much the same price as the Ultrabook I've just started testing. The Sony Vaio Duo 11 also fits many of the same user profiles as the Q702. It's fitted with a digitizer, converts to a tablet and has a great set of ports. My first impressions are generally positive.
I'm really impressed with the looks of the Sony Vaio Duo 11 but there's a lot more to talk about than just the aesthetics. The screen is incredibly bright and sharp and because of the slider design it's more stable than any other style of convertible when open which means you can really use touch and the digitizer with confidence. There are other positives too, and one huge negative because it only ships with a 39Wh battery. The Q702 has double that!
I immediately noticed that the Vaio is a fully capable Ultrabook that doesn't suffer from the same thermal limits of the behind-the-screen style of mainboard placement (tablets.) Turbo Boost works well and initial performance test results are up there with the best of the sector.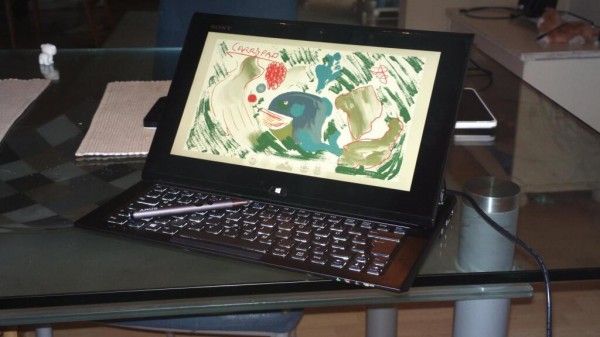 Back to the screen and working fascia – it's impressive but suffers from the same issue that you'll find with all sliders. The keyboard area is small. I don't feel 100% confident with the keyboard at the moment but I have to admit that writing this post has been easier than I though it would be. The keyboard backlight helps and now that I've 'ranged' my fingers, it seems to be acceptable. The optical mouse pointer however is not so nice. I'll have to test out a few different techniques in this area. I'm using a mixture of touching the screen. cursor keys and digitizer pen at the moment.
The digitizer layer and pen on the Sony Vaio Duo is excellent and really helped by having the most stable screen design possible. It's locked into position and is stable enough to take full pressure on the pen without bouncing or tipping back. It's great design for those wanting to use a pen. For those not wanting to use a pen you might be encouraged to try with the full HD screen as text and selection boxes tend to be smaller.
Speakers are good which indicates some good engineering effort even in areas that often get ignored.
NFC, location sensor (full GPS), Centrino 6235N WiFi (including WiDi and WiUSB) and TM module add to the good spec list.
As for the disk speed – excellent although there's only 61GB of 128GB free on this test device – a shocking loss of space out-of-the-box.
As a tablet the Sony Vaio Duo isn't that impressive. Sharp edges and a 1.3KG weight make it awkward although the screen is so bright and punchy it makes sense to be using the tablet to demo videos and images. In that respect it's not bad – and a lot better as a presentation device than smaller tablets.
The Sony Vaio Duo is fitting in well to my home life. During working hours I'll attach an external screen, keyboard and mouse and then, in the evening, I'll be perching the unit on the side of my armchair for a surprisingly stable solution. It will work well on short outings and would work well in the hotel scenario. [I'm away next week – the Vaio Duo is likely to accompany me.] It's stylish too. I'd be quite proud to be using this in any public place!
For longer-term mobile usage though, the Sony Vaio Duo might not be perfect. I'm not talking about battery life because the extended sheet battery can be added, charged standalone and even includes a pen slot. No, the biggest problem could be that hinge. It looks extremely complex and must be treated with respect. Having said that, I also have my reservations about hybrid docking connectors too!