Let this be a lesson to all of us. The Fujitsu Q702 I am testing right now has a 1.8Ghz Core i5 CPU with Turbo Boost Technology that can take it to 2.6Ghz. The whole thing is packed inside a tablet PC. Impressive. The problem is that this 1.8Ghz platform down-clocks itself from 1.8Ghz  to an average 1.3Ghz when under load. Fujitsu don't appear to be telling their customers either.
Fujitsu have taken control of the power on the Stylistic Q702 hybrid in order to stop it overheating and it means that instead of a guaranteed minimum nominal clock speed you'll get about 1.3Ghz average clock rate under load. That's nearly 50% less processing power than the best designs on the same processor and yet Fujitsu fails to point this out on their website.
Advertising a 1.8Ghz-2.6Ghz CPU and then restricting that to very short duration work is somewhat misleading in my opinion.
The Q702 is likely to have been designed with what's known as configurable TDP (cTDP) which allows the designer to set the CPU to a lower power profile, effectively locking out any long-term high-clockrate CPU or GPU in order to keep thermals under control. Fujitsu have their backs covered of course because the CPU will indeed momentarily speed-up above the nominal 1.8Ghz before it quickly drops down to sub 1.8Ghz levels. 1.3Ghz is about the average clockrate I've seen under any CPU loads. For the record, I have seeen brief moments of 2.6Ghz clockrate.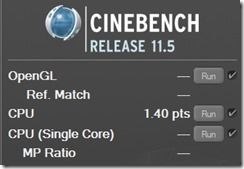 I tested Cinebench 11.5 and got scores of 1.63, 1.4 and 1.57 as results.  For comparison, the Lenovo Twist, at half the price, turns in a 2.33 score.
It's not just the Q702 that does this; The Acer W700 does a similar trick according to forum reports. You're likely to see this on other Core tablets too. As predicted, it's confusing for customers.
It doesn't just stop at tablets either. The Samsung Series 5 Ultrabook has Turbo Boost locked-out under battery power although at least that one can sustain the nominal clockrate.
There are a couple of interesting points to note about the Q702 though. Firstly, I used it for a full work process while at MWC last week and I didn't notice this issue – A reader pointed it out to me. My high-load jobs were using Intel Quick-Sync Video though so maybe that's not impacted as hard as the CPU is. Secondly, by keeping the clock low you're capping the power usage on the CPU which leads to longer battery run-times and, in theory, a cooler and more efficient system. The Fujitsu Q702 certainly has some great battery life figures.
The moral of the story here is that if you're looking at very small and tight Core-based designs in 2013, you need to be aware of thermal limitations. All Ultrabooks will vary their Turbo Boost according to temperature so that's to be expected. Some will turn of Turbo under battery power and the Fujitsu Q702 TabletPC (it's not an Ultrabook) highlights the extremes where clocks are reduced below nominal, and expected speeds.
Thank goodness for independent reviews and good comments! Thx DaDude!