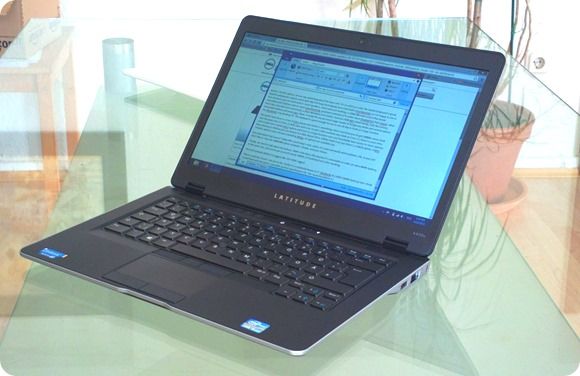 The Dell Latitude 6430U is here and under my fingers. 1366×768 and a 36Wh battery is a shocking thing to be seeing on a new Ultrabook in 2013 but wait because it turns out that if you don't like that you can change it, and that's one of the key features of this device. It's aimed at business users and because of that Dell is offering a huge range of configuration options and in among the variants is an Ultrabook I really should buy; Maybe you too.
Before I list the options, let me say something about the base unit. It's as solid as a rock in terms of build and basic features. The backlit keyboard is great (update: fantastic) and the pad/pointer options work well. My first long-term laptop was a Dell with a touchpointer so I'm happy to see it here because I get on well with it. Good speakers, silent and cool working, a 1366×768 matt screen that works incredibly well outdoors due to some transflectivity, good port selection (I'd rather have DisplayPort than eSata though), what feels like a fast SSD (not tested yet), a clean Windows 8 Pro build, Centrino 6300 WiFi (dual-band), fold-flat screen, removable battery and array mics. Wow. It really fits my personal usage model of temporary desks and screens where my Ultrabook is my desktop PC and, importantly,  the keyboard is good enough for me to use all day in front of a huge monitor.
The build I have here is a Core i5 VPro-based unit which is something I don't need but you do get 100Mhz more clock over the basic Core i5 CPUs. (1.9Ghz max with Core i5 and 2.1Ghz nominal max clock on Core i7.) There's a non-VPro Core i3 and Core i7 (with VPro) option and if you're a large business user you'll probably have access to more options than Dell offers on their website. Base memory is 4GB but you can choose 6, 8 or 16GB. Base SSD is 128GB (75GB Free) but there's a 256GB option and self-encryption if you want it. 4 WiFi module options cover all bases including WiGig. 3G options are available too although some are not inter-compatible.
But what about that screen? 1366×768 is yesterday's tech, unless it's matte and works well outdoors. OK, so you still don't like it? Take the 1600×900 option then. Simple, and your choice. For those thinking about the WiGig desktop dock or any other external desktop screen the 1366×768 screen is OK for occasional, in-flight or coffee-shop use. In fact, for my older eyes and my usage – mainly typing and photo editing, it's perfect. A 1600×900 might be better but matte and outdoor-usable is also valuable to me.
Finally, we need to talk about the battery. 36Wh is the base offering but it's removable so order an extra 60Wh battery, in the same package size (100 Euro / $100 approx) and you've got yourself nearly 100Wh of flexibility for 8-12hrs working. Just remember to charge both overnight before you set out on the road although with ExpressCharge you'll be able to get an 80% charge in an hour – a feature well worth having.
The Dell Latitude 6430U is a rugged, MIL-STD-810G rugged, Ultrabook.
There are only three issues I can see so far. Firstly it's a relatively heavy 13.3" Ultrabook at 1.63KG (36Wh battery) but I think I could deal with that given a possible perfect specification list. That specification list could lead to the second problem of price though. My ideal combination comes to about 1200 Euro inc.sales tax / $1200. The final problem is that I keep touching the screen. That's frustrating for someone that's been using touchscreens for so long but isn't going to affect productivity too much.
As a working laptop and desktop I can see a lot of companies going for the 6430u without a doubt. For individuals there's the question of touch which I know can add some fun after-hours. If you are looking for something more 24/7 then maybe the Lenovo Yoga 13 is the answer for you.
I'll be continuing with a full review and some videos of the Dell Latitude 6430u over the next few weeks so if you have questions, please don't hesitate to ask in the comments below. Current owners are encouraged to chip-in with their thoughts too.