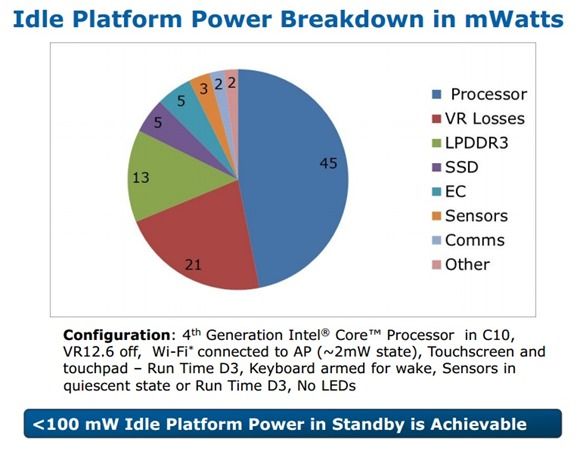 In a presentation due to go out at the Intel Developer Forum over the next two days Intel will outline best practices for low-power idle on Ultrabooks. Today you'll be lucky to see an Ultrabook idle to less than 3000mW (3 Watts) which is a background drain that's always there. On Haswell, Intel says that you could get to a screen-off idle state of 100mW.
By effectively removing nearly 3W of background drain, all operations are going to benefit, not just idle. Where Internet browsing was a 9W operation, expect to see that go down to around 6W for a big increase in battery life.
The 100mW target requires both system designers and software engineers to build to the best standards but when it comes to laptops, it's the Ultrabooks that have the best chance of getting the best engineers working on them. Low-power DDR3 memory, SSD storage, high-quality power components and tight board design mean the best systems won't be cheap systems but all the ingredients and skills are now available to make laptops that idle like tablets.
Intel also want's to see engineers using configurable TDP and other features to create systems in the 10W (fanless) range. High Density Interconnects on motherboards could also bring advantages. By reducing the mainboard size, space is created for more battery. Intel says there's a chance to fit 20-45% more battery inside when motherboard sizes are reduced using HDI techniques.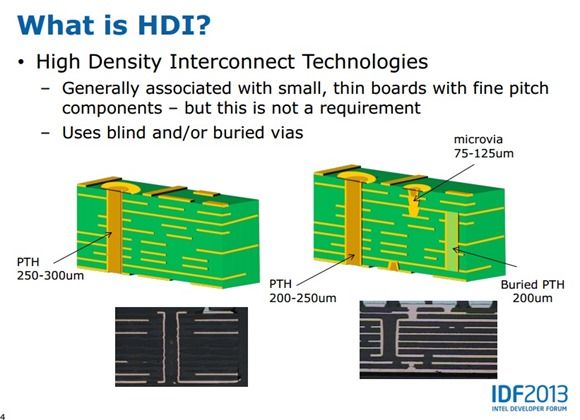 While the ingredients and techniques might be on the shelf, it's up to the OEMS to decide how they use them. Pricing pressures often lead to compromises so don't expect all of the new engineering techniques to appear on anything but the high-end Ultrabooks.
The Intel Developer Forum starts today (9th April) in Beijing and runs for 2 days. Stay tuned for more Ultrabook news coming out of China.