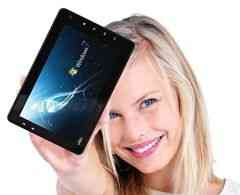 The Wall Street Journal says that "people familiar inch with Microsoft's plans are tipping a new line-up of Surface Tablets, including a 7-inch model.
Is the ultra mobile PC coming back or are Microsoft planning a Windows RT-based 7-inch tablet?
It's simple. If the Windows Store grows, there's an opportunity for some innovation in this area. But only if the Windows Store grows considerably.
We've talked about the possibility of a 7-inch Windows tablet based on Clovertrail or Bay Trail before. When asked in February, Microsoft didn't deny it. There are no major physical issues (the image shows a 7-inch Viliv product that was planned two years ago) and the Windows 8 software, with it's Connected Standby capability, was likely written with that in mind but what form would it take? Pro ultra mobile PC or basic RT? Windows RT seems the best candidate right now.
Although some of us would like to see a full desktop experience in the hand, this may not be the best approach to bringing a tablet into a market that is consumption-led and highly competitive. True, the 7-inch tablet that can be docked into full-PC mode could be a unique selling point and processing platforms like Bay Trail could enable that but there are costs to consider. The 7-inch tablet market now is a low-price market and a $500 7-inch tablet could be too much of a shock for the mainstream customer, and tech journalists. No-doubt Microsoft already have something in the lab but it's RT that's fit-for-purpose here as long as the confusing and limited desktop is removed and, most importantly, the Windows 8 Store matures.
A 7-Inch Windows RT tablet would also be the perfect bridge for Windows Phone applications too and we know that Microsoft is moving to connect the two operating systems in a way that could allow Windows Phone apps to run, or be recompiled quickly to run on Windows 8 and Windows RT, at some point in the future.
There's no doubt in my mind that both Intel and ARM partners will be trying to get their feet in the Microsoft door with this product and there's scope for a RT and Pro version (Pro with docking station and true PC flexibility) but both will depend on Windows 8 Store.
If Microsoft let those Windows Phone apps run on Windows 8/RT, everything is possible. It will take time and a late 2013 or early 2014 launch seems like the right timeframe. I'm positive we'll see something in that space. I'm also positive we'll see other vendors exploring this product space too.
Let's keep an eye on ASUS and other high-risk-taking OEMs over the next 6 months. If everything works out to plan, we could be seeing more than one 7-inch UMPC/RT/Surface product at CES next January.
Source: WSJ