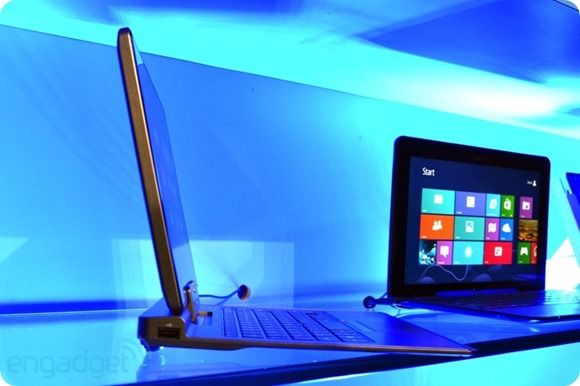 Presented in the Intel Developer Forum Beijing keynote, the unknown Toshiba Portege 'detachable' has now been identified as the Toshiba Portege Z10T. It's a 10" hybrid running a new low-power Core. It's coming in Q2.
Unlike the Lenovo Helix that is now available in Japan, the Toshiba Portege Z10T is going to run on a permanently restricted Ivy Bridge Core with a lower TDP. It won't be as powerful as the Lenovo but it could result in a simpler docking station that doesn't need additional fans and therefore be cheaper. Up until now the dockable Core-based tablets have been very expensive although the Portege branding means we can't expect it to be aimed at low-end consumers.
Looking at images from Engadget I see a full SD card slot, USB3, micro HDMI, headset port, volume rocker and power button on one side of the tablet and nothing on the right. On the very thin docking station we see a USB port on the left and VGA port, Ethernet and second USB port on the back. There's a trackpoint mouse control with separate mouse buttons at the top of the trackpad. The keyboard is backlit. Based on the thickness of the dock I don't think we're looking at something with an additional battery inside although with a need for weight in the base, we hope they've put something useful inside.
The Lenovo 11S will be available in June we've heard and this Toshiba is also due in the same quarter, perhaps June too which is the same month that Haswell-based devices will launch. Haswell is far more suited to this form factor than Ivy Bridge given it's new power architecture, more powerful graphics and potential for fanless, connected standby low-power designs. We can't see this being produced in huge numbers or even reaching many locations. Given that Haswell is shipping to OEMs wouldn't it be better to work on a Haswell version?
Check out the images at Engadget and let us know what you think below.