I've been collecting data on the distribution of mobile internet device screen sizes since 2009 when the first handheld computers arrived with Origami and UMPCs. At that time there were about 240 SKUs being offered in Germany and most were netbooks. Today there are about 1200 products being offered and the 7-inch category has exploded.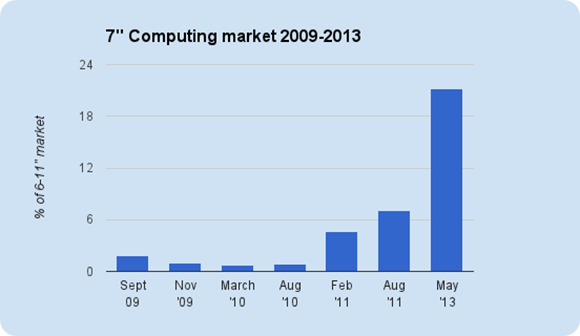 Although the landscape has changed and the sector has expanded it's the change of product types within the sector that's the most interesting. Here's the distribution in 2009 compared with 2013.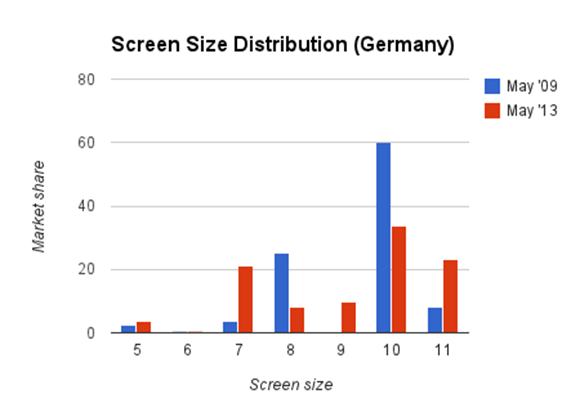 In 2009 there wasn't a single phone in the survey. 76% of devices were Intel Atom devices and netbooks ruled. In 2013 it's different. The number of SKUs has grown over 400% and there are more choices in every screen size category.
Look at the 'tweener'  category that Steve Jobs said was "dead on arrival. inch He couldn't have been more wrong. 7-inch tablets were at a low-point when he said that and then they went on to take over 20% of the sector in terms of product offerings. It's the 6 inch segment that's the tweener now.
In terms of traditional PCs with windowed operating systems, there's been a big change. Most devices in the 11 inch screen size category are Intel PCs. (77%) Windows 8  accounts for 59% of 11 inch laptop products. In terms of 11 inch tablets (which includes hybrids) Intel platforms are present on 86% of products. Growth in this segment is strong.
In the 10 inch segment mostly old netbooks account for just 18% of products. The rest are tablets where ARM-architecture devices account for 76% of the total. Intel products account for 20%. This segment has always been active, has always grown but now consists mostly of tablets, not laptops. In terms of Windows share here there are 83 Windows tablet products (25% of tablets) and 65 Windows laptops (all on Windows 7, 87 of laptops.) There are no 10 inch Windows 8 laptops.
In the segment of 7,8 and 9″-inch devices there are 464 tablets being offered. Intel barely appear on the chart with just 6 devices. The ASUS Fonepad (Android) and HP Slate 2 (Windows 7) are the only significant products here. The 7-inch segment has exploded. There were just 3 devices left from the UMCP days at the end of 2009. Today it's huge and Android-dominated. You won't find a 7-inch Windows tablet yet but we suspect that next time we do this survey it will be different.
It brings us to a completely new category of devices in smartphones with 5-6-inch screens.  There are a few tablets in this category but what used to be called MIDs are now simply phones. 46 products are available and nearly all of them run Android 4.x. In terms of percentage of SKUs it's not a large part of the market, but it's growing.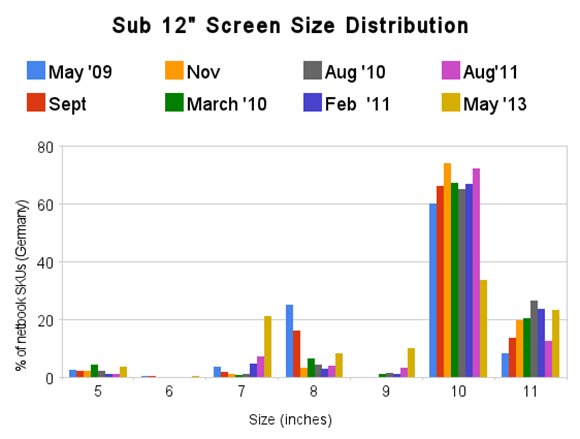 Finally, lets talk about prices. In late 2009 the cheapest mobile computing device was 160 Euros, a netbook. Today, there are few notebooks worth talking about under 200 Euros where the ASUS EeePC X101 exists (224 Euros.) You can find a terrible looking Coby Android 2.2 smartbook for 59.99 if you must. In the tablet sector you'll find 85 options under 100 euro!
Note: These charts are based on SKUs available in the market. Some may not be shipping yet. The data does not indicate market share in terms of sales numbers. All data from information in Geizhals.de a European price comparison engine. SKUs taken from the Germany market only. An English-language version is available here.