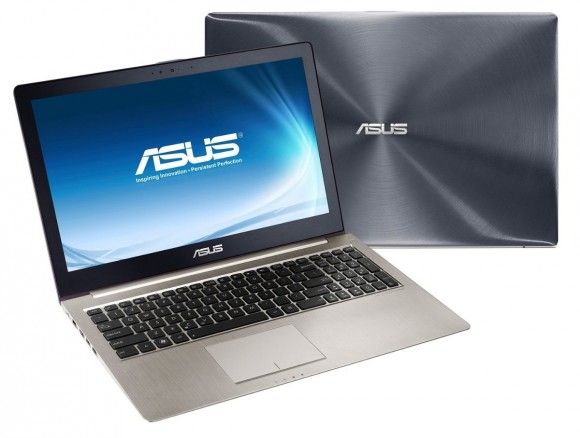 Back in June of 2012, Apple revealed their MacBook Pro with 'retina' display — a super high resolution panel. Since then we haven't an answer in the Ultrabook or Ultrabook-alternative world by anything higher than 1920×1080 (likely due to Windows' poor scaling support). It looks like Asus will be the first to make a comparable offering. A new variant of the UX51 popped up quietly on Amazon.de sporting a 15.6 inch 2880 x 1620 panel.
Credit goes to Notebook Italia who spotted the UX51VZ-DH115H variant on Amazon.de. As far as we can tell, there's been no formal announcement from Asus… perhaps they accidentally listed it early?
Priced at €1999 (~$2562), it's the same 15.6 inch UX51 that we've seen before — not quite an Ultrabook thanks to a more power-hungry QM processor — but with high density 2880×1620 IPS display, which puts it at 211.82 PPI. For comparison, the 15.4 inch MacBook Pro with retina display is 220 PPI (and it starts at  $2199).
Given the price, we're not surprised to find this UX51 packed to the brim with premium components:
Windows 8

15.6 inch IPS display 2880×1620
Intel Core i7-3632QM
8GB of RAM
2x 256GB SSD in high performance RAID 0 configuration
Nvidia GeForce GT 650M discrete GPU
Ports: 3x USB 3.0, full HDMI, full SD, full ethernet (RJ45/LAN), mini-VGA, 3.5mm headphone/mic combo
2.16kg, 19.7mm thick
90Wh battery
Included: external DVD drive and USB subwoofer
It doesn't look like the UX51VZ-DH115H is shipping just yet. The Amazon.de page currently says "usually ships in 1 to 2 months," but we'll keep our eye on it and continue to hope that this display makes it's way into Asus' Ultrabooks!