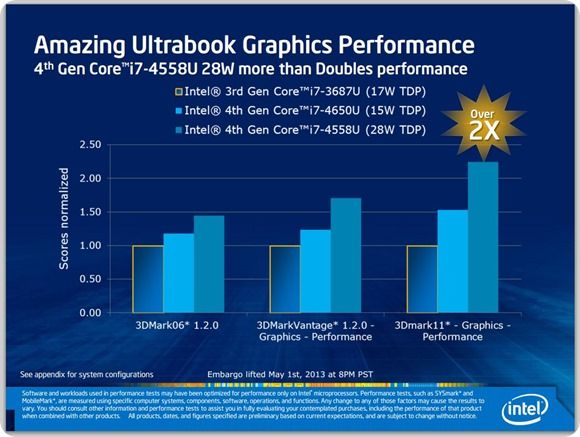 Intel Iris and Intel Iris Pro have just been announced as the new brands for the top two tiers of Intel's 4th-gen Core processor (Haswell) graphics. Iris will appear in Ultrabooks but, surprisingly, only on a 28W TDP processor. It indicates that there are some higher-level processing options coming to Ultrabooks. Other 4th-gen Core processors for Ultrabooks get HD 5000 graphics.
Intel have just announced Iris and Iris Pro, HD 5100 and HD 5200 integrated GPUs for 4th-Gen Core processors (Haswell.) The Intel Iris Graphics (HD 5100) will appear in a 28W version of a Core 4xxx processor for Ultrabooks. The Core i7-4558U will be one of those processors.
Information sent to us shows a 2X improvement in 3DMark11 graphics performance.
2X 3D performance increase over Intel HD Graphics for the high performing U-series processors
designed specifically for Ultrabooks, with Intel Iris graphics
Performance figures show 2X improvement for 28W TDP Core i7-4558U but not the more efficient 15W TDP Core i7-4650U which shows only 50% improvement according to Intel figures. This is not surprising considering the lower power figure and note that we're expecting even lower TDP processors for Ultrabooks too so there's a range of graphics capabilities to be considered for the next round of Ultrabooks starting in June.
The information given confirms a  Core i7-4650U at 15W TDP with an expected 50% performance increase with 3DMark11 over a Core i7-3687U (17W TDP) so you can expect more 3D performance along with more Intel Quick Sync video encoding/decoding performance for less power utilization. It's one of the key figures that will interest efficiency fans looking for longer battery life, quieter fans and more power.
Anandtech previously measured a 3DMark11 score of 648 with a Core i5 3rd-Gen processor [link]. Laptopmag measured 670 with Core i7-3517U 3rd-gen processor [link] and together it indicates a score of around 1000 for the 4th-gen 15W TDP Core. There's less of a percentage improvement in 3DMark06 scores. No figures were given for Quick Sync video encoding improvements but we're expecting 1.5-2X improvement there.  For those upgrading from an older laptop, the performance increase could be very significant. Intel sent this information:
If you compare to the installed base, consumers upgrading a four year old notebook with an Intel® Core™2 Duo processor to a new Ultrabook with a 4th Gen Intel Core i5 4200U processor with Intel Iris graphics will experience a significantly better computing experience3:

Almost half as thin and half the weight
17X faster video conversion (optimize a video for a social media site)
25X faster graphics performance (playing visually rich, mainstream PC games)
Our Haswell  processing and graphics feature overview is here.
Souce: Intel.