The Lenovo Yoga 11S appeared for pre-order in the US a few days ago and you can now pre-order three 11s models in Europe.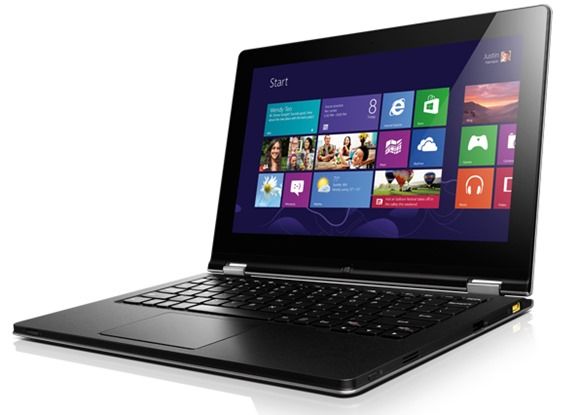 German retailer Notbooksbiliiger.de have revealed two Lenovo 11s models along with a few more specs, pricing and pre-order. Starting at €899 with a Core i3 and going up to a Core i5 with 256GB and 8GB RAM for €1199. In the USA the Core i5 (4Gb/128GB) model is $799 so clearly the EU prices have been set too high. Don't be tempted at that price.
Lenovo Ideapad Yoga 11s details and pricing – Germany.
Intel Core i3  3229Y 2x 1,40 GHz (No Turbo), 4GB RAM, 128GB SSD, 1366 x 768 Pixel glossy display, Wireless LAN 802.11 bgn, Bluetooth 4.0, HD-Webcam, 1.35 kg, battery 42Wh, Windows 8 64 Bit
Intel Core i5  3339Y 2x 1,50 GHz (TurboBoost up to 2.00 GHz), 8 GB RAM, 256GB SSD, 1366 x 768 Pixel glossy display, Wireless LAN 802.11 bgn, Bluetooth 4.0, HD-Webcam, 1.35 kg, battery 42Wh, Windows 8 64 Bit
Note: 2 RAM modules. 1xUSB2.0, 1XUSB3.0, SD card reader, HDMI out, stereo speakers, integrated mic, headset port, 298 x 204 x 17,2 mm
It's interesting to finally see the battery capacity. 42Wh is 80% the capacity of the Yoga 13 with its 53Wh battery and despite a lower TDP CPU, battery usage is likely to be within 10% of what we've seen on the Yoga 13 so expect 4-5hrs online usage. In terms of weight 1.35KG isn't really that thrilling because the smaller volume will make the device feel just as dense.
Unknown at the moment is the WiFi card. The previous Yoga 13 had a Realtek card with no WiDi capability. Intel have announced that all Ultrabooks based on the 4th generation core (the up-coming Haswell) will have WiDi capability.
As for CPU performance, that Core i3 running at 1.4Ghz will (obviously) run at 77% the performance of the 1.8Ghz Core i3 in the current 17W TDP CPUs and about the same as we saw with the the first Core i3 Sandy Bridge models in 2011.
In my opinion I think these Y-series CPUs are nothing but smoke and mirrors to allow some lower pricing on the CPUs and an easier way for manufacturers to develop smaller-volume ultrabooks. The consumer gets a step-back in performance and something that won't perform anything like a Haswell-based device in Q3 and Q4 tis year although there's potential for a low-cost range of ultra-mobile Ultrabooks. Our tip is that initial prices on these Yoga 11S models are set too high and that prices will drop very quickly. We like the Yoga 13 because of its build quality and working facia so at a 25% price discount, these Yoga 11S have something going for them. Strike at €650, not RRP.
Source: Geizhals