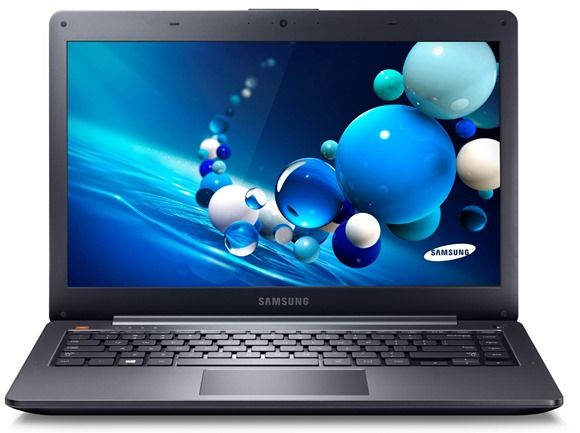 I tested the Samsung Series 5 Ultra Touch with SSD recently. It was a fantastic bit of kit but lacked a few features. The 1366×768 screen was a bit 2012 and there was no keyboard backlighting. When I saw that the Samsung ATIV Book 5 was launching I was hopeful that we'd be seeing the necessary upgrades. Alas, it appears that the Book 5 is nothing more than a re-positioning exercise.
The ATIV brand is going to be used by Samsung in the USA but it introduces some confusion during the change-over period. The old Series 5, 7 and 9 still exist. The question is, what is Samsung's low-cost Ultrabook range in the USA or are they clearing out in preparation for Haswell, touch-only Ultrabooks from June. Are they going to do anything with the Y-series processors?
The new Samsung ATIV Book doesn't currently offer much in addition to something like the Series 5 Ultra Touch and in some cases , the specs are worse. It's bigger, fatter and heavier than the Series 5 Touch, has a lower PPI on the screen and doesn't have the separate mouse buttons, only a 200-nit screen and no SSD option. It does have a back-lit keyboard and JBL-tuned speakers, a 57Wh battery (some of the Series 5 models already had this) and, OK, you get a Core i5-3337U which is 100Mhz faster.
So what's going on here?
Either Samsung have decided that (in the USA) the market won't be needing cheap 13.3" designs any more and that it should be covered by the Series 9 and Series 7 13.3" hi-res models or that there's more to come in the Book 5 range. An SSD option and high-res screen would be something but then isn't that the Series 7 NP740U3E-A01UB?
The Samsung Series, sorry, ATIV Book 5 is available for pre-order on Amazon.com for $899 now. The Series 7 Ultrabook (touch or non-touch) isn't shipping yet in the USA. Pre-order is available for $1,115 e.g. here. The Series 7 Ultrabook is shipping in Germany.