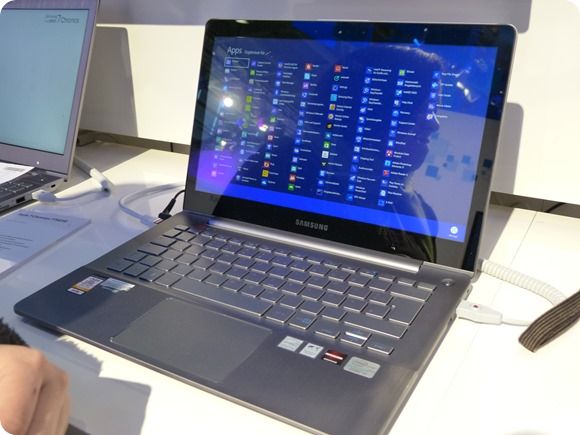 After nearly two years of Ultrabooks the Samsung Series 7 Ultra came along and ticked all the boxes we had listed for an Ultrabook. Finally a combination of screen, performance, battery, ports, storage and price that looked interesting. Our first hands-on was positive but it's take a long time to reach the shelves and we're now just days away from Haswell. Can Samsung expect sales or is it going to get crushed by the third generation of Ultrabooks on the 4th Generation of Intel Core processor? We suspect that most will be waiting for a Haswell refresh before even considering it.
Ultrabook King gives the Samsung Series 7 (730U3E non-touch) an 84.5% score. Engadget called it a "good deal." Digital Versus gave it 5/5. Mobile Tech Review gave it 4/5. It's a bloody good Ultrabook.
With Haswell round the corner how are manufacturers going to handle the phasing out or re-positioning of 'old' Ultrabooks? Remember now that next generation Ultrabooks (with Haswell cores) must have touch and WiDI and that pricing of these new models is sensitive. Haswell brings, however, some seriously large benefits in battery life which for many is the #1 figure to check for in reviews.
Haswell will also bring 50%-100% (1.5x – 2.0x) improvement in graphics too along with a boost in CPU performance. Even the Ivy Bridge Ultrabooks are going to look very under-powered, very quickly. Device built on the 'new' Ivy Bridge Y-series at 1.4Ghz and 1.5Ghz are going to look silly if they are priced within even the budget Haswell Ultrabook space!
Pricing is the key here.
The Samsung Series 7 Ultra will remain a very good Ultrabook, if the pricing is changed. That won't have to happen immediately as you won't see any killer street-pricing on Haswell Ultrabooks until there are 10-20 models available and that could take until the end of July but when that happens and a Haswell Ultrabook with 7hr battery life at $799 appears, discounting will be needed…
…unless everything get's a refresh and that's what's likely to happen as soon as possible for the top touch-enabled models in order to retain the higher pricing. Non-touch Ultrabooks with Ivy Bridge will drop in price quickly or will need to be taken out of the market. Customers looking for bargains should be watching in July for some interesting back-to-school offers. The Samsung Series 7 should be amongst them as one of the best 2nd-gen bargains out there.
We've looked through the recent and popular 2nd-gen Ultrabooks and along with the non-touch ASUS Zenbooks, the Samsung Series 7 / ATIV Book 7 could be the best of the bargains during the change-over.
Here are a few Samsung Serie7 reviews for you to read. Don't hit that order button just yet though; Prepare yourself to hit the button sometime in July. (Or full information page here.)
Ultrabook King – Samsung Series 7 (730U3E) Review (German)
Engadget – Samsung Series 7 Ultra Touch Review
DigitalVersus – Samsung Series7 Ultra Review