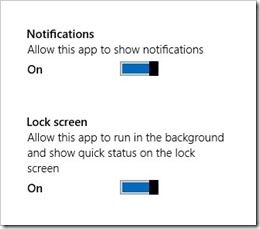 What's Connected Standby? It's the hardware and software that turns a PC into a smart device. Always on, Always Connected! You can find more information here and I encourage you to read it and to consider this 'seal of efficiency' for your next laptop or mobile PC which, in 2013, can only be an Ultrabook or a Clovertrail or BayTrail based laptop, tablet, convertible or dockables.
Here's a way to check for Connected Standby, battery capacity and to view historical battery life reports. Useful to use quickly in the PC store!
The  'powercfg' command on Windows 8 is a powerful one as it exposes a lot of information.
Battery capacity
Measured Battery Life (and estimated battery life)
Battery Drain
Connected Standby capability
Go ahead and try it by opening a command line (simply press the 'Windows' key on your keyboard to go to the modern Windows 8 UI and type "cmd". Press return and you should see a black windows pop up.) Type the following:
powercfg –batteryreport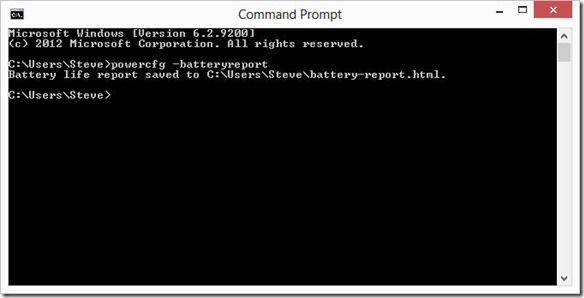 Now open a file explorer [Windows+e is the shortcut] and navigate to your home directory.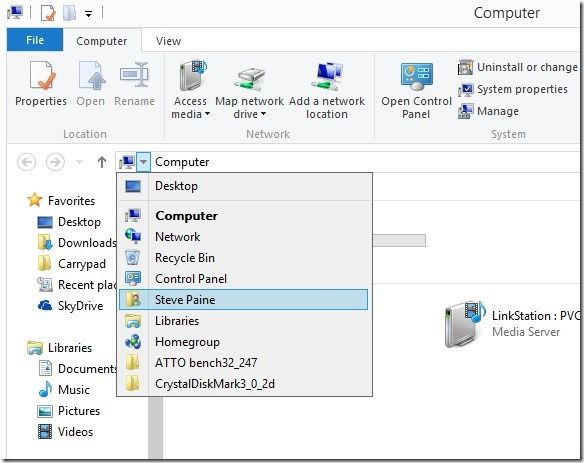 Double click on the battery report file which will open the report in your browser.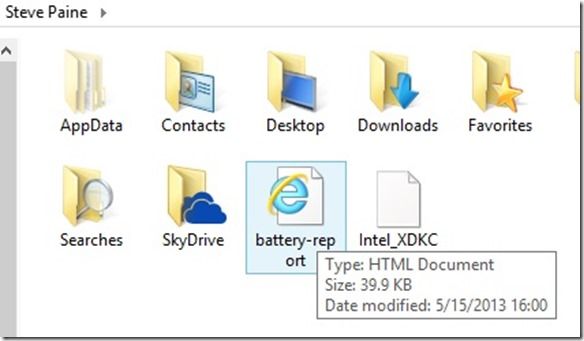 Here's the top section of a report from an older Ultrabook. Click to enlarge.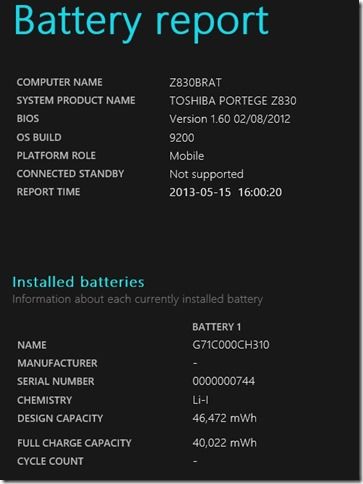 Apart from useful system info you can see the connected standby capability. In this case (as will all PC platforms except Intel Clovertrail today [May 2013] Connected Standby is not supported. There is nothing you can do to change this.
In the near future, Haswell will support Connected Standby on some Ultrabooks but not all. BayTrail (late 2013 for smartbooks, tablets etc) will support it on some products.
Here's the top part of a report from an Acer Iconia W5. Click to enlarge and you'll see Connected Standby support and the capacities of the two batteries on the system.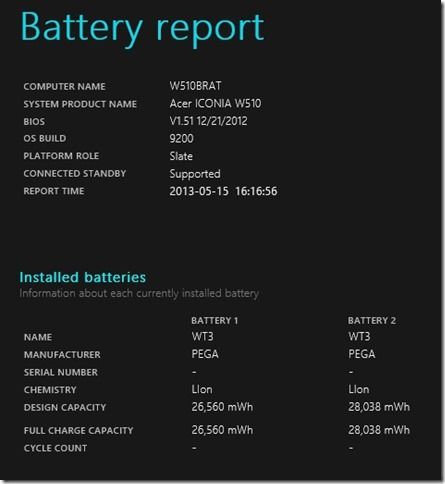 The rest of the report is a little harder to read but includes reports on recent battery drain, when connected standby was used, charge levels and more but the most interesting part is right at the bottom where there's a report on estimated full-charge battery life based on your usage.
The last 7 days are shown along with a complete set of weekly reports. Yes,I really do get this level of battery life and standby battery life. My average battery life is over 14 hours with standby times running into weeks. Remember, this is "ON" standby with the WiFi connected, not the old standby sleep state. Think of it like a smartphone standby time.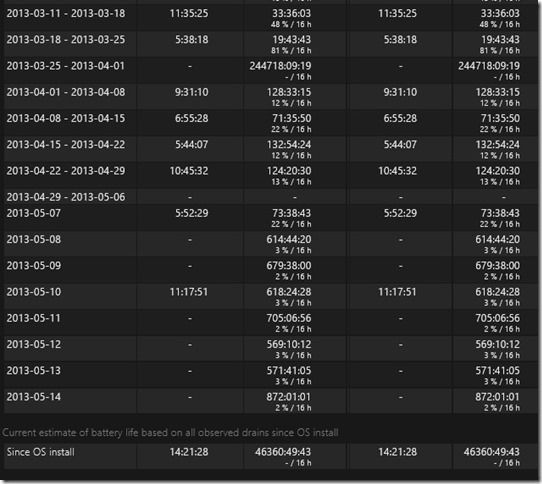 Next time you look for a laptop or mobile windows 8 device, check to see if it supports Connected Standby! Stay tuned to UMPCPortal.com for Ultra-Mobiles and Ultrabooknews.com for the Ultrabooks.