There are two Ultrabooks in the wings that get more search hits than any other Ultrabook on the Ultrabooknews website at the moment – the Lenovo Thinkpad Helix and the Lenovo Ideapad Yoga 11S. The 11S gets a few more promotional videos today so at least we know it's still coming, but when, at what price, what battery life and what performance. There's so much unknown at the moment so let's take a closer look.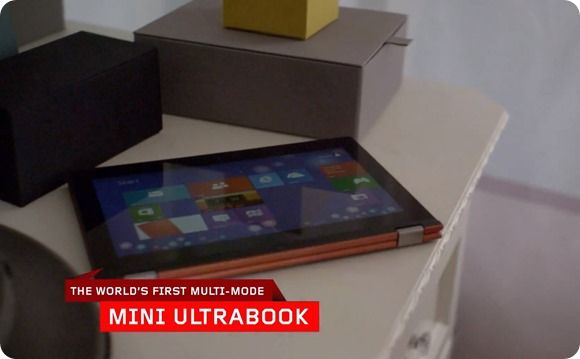 Latest specifications, an image set, videos and comment on the Lenovo 11S is always available in our product database.
Let's tackle a few of those questions. Firstly, price. Lenovo are being very price competitive with their Thinkpad range of Ultrabooks and convertibles and the 11S appears, with its smaller build and lower-power CPUs, to be a product built for more of the same competitiveness. The battery capacity is unknown but it is likely to be less than the Yoga 13 thus reducing costs further. Lenovo have let slip a target price of $799 but I'll take a stab at the Core i3-3229Y version being available for $749 putting it below the Core i3 Yoga 13 and the Windows RT Yoga 11 and more competitive with some of the deals and offers that are available now. FOr an SSD-based Ultrabook Convertible that will be very competitive.
On battery life you've got two things to consider. 1) It's using a down-clocked range of CPUs 2) There's a smaller screen. Although the battery capacity is likely to be in the region of 40Wh, battery life could be 5hrs under normal use. Lenovo are claiming 6hrs in one of their promotional videos so that matches well.
As for when, the last we heard was June but that seems late. Lenovo are still saying it's "Coming in May 2013." [link] Computex is around the corner but let's be honest about this, new Haswell Ultrabooks aren't going to be flowing into the market immediately. Our 2013 Ultrabook timeline states that you'll see staged-availability in July with a ramp-up of more models in August. It won't be until October until we see a wide range of options and some competitive street pricing. If you're looking for a smaller, lighter, good-value Ultrabook convertible with what is very likely to be a good keyboard, the Lenovo 11S should really be on your list.
8 Lenovo Yoga 11S videos are currently available on our Lenovo Yoga 11S product page which is being updated regularly.