The Acer Iconia W3 leaked a few weeks back and while the renders looked official it was still considered to be a rumour. Now Acer in Finland has posted an official page for the W3 with specs and press shots which confirms the device is real and offers more information.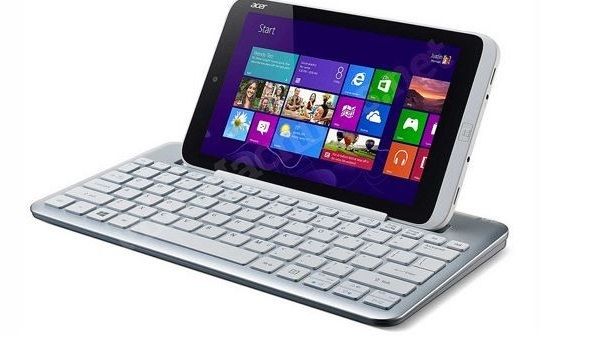 Previous information pointed to a Clover Trail powered device with 2GB RAM, 8″ screen and front and rear cameras running Windows 8 Pro. The device also briefly appeared on Amazon's website with a price of $380 and some dubious specs (A4 processor) but now the full specs posted on Acer's Finnish site confirm the device to come with an Intel Atom Z2760 CPU, Windows 8 Pro, 8″ WXGA screen, 2GB RAM, 64GB eMMC storage, WiFi 802.11 b/g/n, BT 4.0, micro USB 2.0 and micro HDMI ports, microSD card slot with 8 hours of battery life. Front and rear cameras are visible from the press shots but their specs are not clearly given but the leaked information points to 2MB front and rear shooters.
The keyboard dock is optional and while being wider than the tablet itself will probably be more comfortable to type on than one that matched the tablet width. This will be especially useful with the included Microsoft Office Acer lists as being bundled with the device, though its not mentioned if this is a trial or the full version.
It will be interesting to see the timing for the release of the W3. Their website touts the device as the first 8″ with Windows 8 and if they do choose not to wait for the official release of Windows Blue, they obviously don't seem to be waiting for Bay Trail, they could launch as the only 8″ Windows 8 tablet. And with Build coming up could we see these devices given out to developers to coincide with the release of the preview of Windows Blue? With Computex in a few weeks its going to be an interesting June in the Windows world.